Multiple Dates
IFP Screen Forward Presents: Collective: Unconscious
Description
IFP Screen Forward
Sponsored by

Presents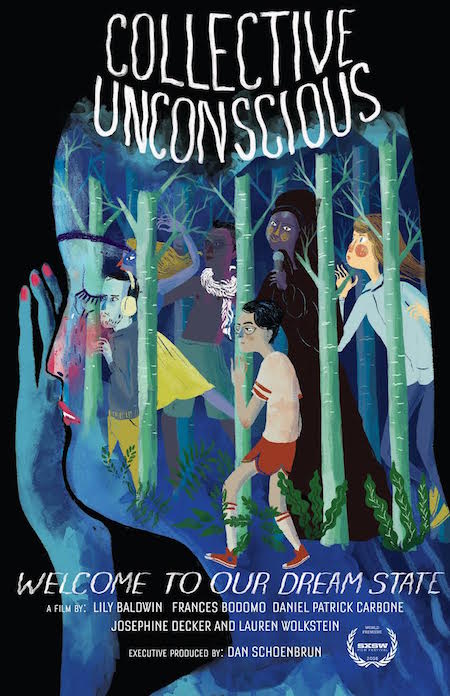 Theatrical Premiere - August 5th - August 11th
Made in NY Media Center by IFP - DUMBO, Brooklyn
World Premiere - 2016 SXW
Official Selection - 2016 Maryland Film Festival, 2016 BAMcinemaFest

A man and his grandmother hide out from an ominous broadcast. The Grim Reaper hosts a TV show. The formerly incarcerated recount and reinterpret their first days of freedom. A suburban mom's life is upturned by the beast growing inside of her. And a high school gym teacher runs drills from inside a volcano. What happens when five of independent film's most adventurous filmmakers join together to literally adapt each other's dreams for the screen? Featuring new works by Lily Baldwin, Frances Bodomo, Daniel Patrick Carbone, Josephine Decker, and Lauren Wolkstein, Collective: Unconscious will transport you to a place in-between sleep and consciousness. Welcome to our dream state.
SHOWTIMES
FRIDAY, August 5th - Opening Night!!!
7pm
Join the directors, cast, and crew of collective:unconscious for a post-screening Q&A, and a shindig at 68 Jay St. Bar in DUMBO, Brooklyn (note: indie film = cash bar).
SATURDAY, August 6th - Q&A and Musical Performance
4pm
Join us for a post-screening Q&A with the team, plus a secret musical performance that's not to be missed.
SUNDAY, August 7th - Financing & Production Case Study
4pm
Post-screening Q&A with the team and Executive Producer Dan Schoenbrun, who will do a deep-dive into the film's unique financing and production process.
MONDAY, August 8th - On Hypnosis, Dreams, and Film
7pm
Following the film there will be an informal talk moderated Q&A by hypnotherapist, Daniel Ryan on collective:consciousness and hypnosis on film. He will be speaking about his experience working on the project, hypnosis as therapy, dreams, Jungian journeys, the intersections of healing and creativity and more. Questions and interaction are invited, the talk will last approximately 30-45 minutes.
TUESDAY, August 9th - Post & Sound Design Masterclass
7pm
Join filmmaker Daniel Patrick Carbone, editor Nick Paley, and sound engineer Chris Foster for an in-depth, hands-on look at the post process that led to their striking and atmospheric segment Black Soil, Green Grass.
WEDNESDAY, August 10th
9pm
A "black creativity/imagination/resistance in the era of Black Lives Matter" discussion to follow the screening featuring special guests Tonya Pinkins, New Negress Film Society, & Opeyemi Olukemi.
THURSDAY, August 11th - Focus on: Dance Screening Co-Presented with Dance Film Association
7pm
In collective:unconscious, filmmakers Lily Baldwin and Josephine Decker use dance in strikingly different ways. From Baldwin's eerie physical breakdowns to Decker's cat-and-mouse like structure, each create cinematic dreamscapes that rely on choreographed movement. For those of you that dance in your dreams, join Dance Films Association for a special screening and panel dedicated to the use of dance as a storytelling device in film.