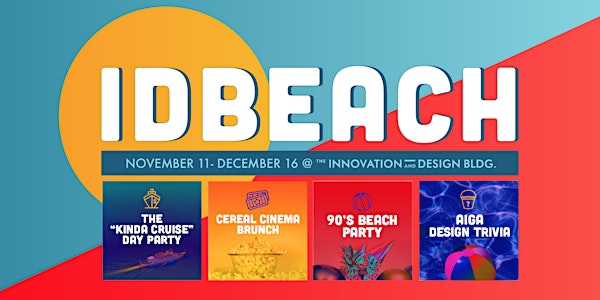 IDBEACH EVENT SERIES at The Innovation and Design Building
When and where
Location
The Innovation and Design Building Design Center Place 23 Drydock Avenue Boston, MA 02210
Description
Heat up your Saturday afternoons this fall at the IDBeach Event Series!
The Innovation and Design Building in Boston's Seaport District is creating a "beachfront" space to ease Bostonians into the winter and hosting a series of Saturday afternoon events for a completely unique experience in a one-of-a-kind setting. Upcoming event:
AIGA Design Trivia on Saturday, December 16th - 1:00pm to 5:00pm
Sharpen up on your design knowledge because AIGA's popular Design Trivia is back in action at IDBeach! We're teaming up with the American Institute of Graphic Arts (aka AIGA) to pick your brains while you hang out over some frosty beverages, pizza, and friendly competition. Form a team with friend and coworkers, or fly solo and AIGA will set you up with a crew. Questions will be fun for designers and non-designers alike, so come flex your brain muscles with other creative individuals and aim for first place to win a prize! Cash bar will be available and pizza will be provided.


Previous events include: The "Kinda Cruise" Day Party, Cereal Cinema Brunch, 90's Beach Party
Tickets for all events in the IDBeach event series will be available through Eventbrite for $12 with the exception of AIGA Trivia, which is a free ticketed event. The IDBeach is powered by Party By Design and presented in partnership with Isenberg Projects. All events are 21+ unless otherwise noted. IDBeach is located at The Innovation and Design Building, 23 Drydock Avenue, Boston MA.


For news and announcements on IDBeach, follow @idbldg on Instagram
For more information on the IDBeach Event Series, visit http://idbldg.com/news#events
For details on how to rent IDBeach for private events, contact events@bostondesign.com
----------
About The Innovation and Design Building
The Innovation and Design Building (IDB) is a 1.4 million-square-foot mixed-use complex located in the Innovation District in Boston's Seaport neighborhood. The eight-story structure was constructed in 1918 and originally served as a waterside storehouse for the South Boston Army Base. Jamestown, L.P. acquired the IDB in 2013, and renovated the building with enhancements and new amenities totaling $100 million. Today IDB's light-filled floors are home to a diverse mix of companies and entrepreneurs, including architects and engineers, skilled makers and craftspeople, research and development firms, and technology start-ups.