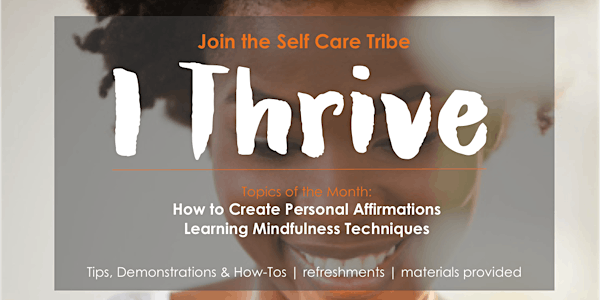 I Thrive: A Self-Care Sunday Meetup for Women
When and where
Location
Roots Gallery & Cultural Center 187 Hamilton Avenue Columbus, OH 43203
Refund Policy
Refunds up to 7 days before event
Description
This is for the woman who is ready to put herself first, understanding that she must give herself love, care, support and healing before she can capably, successfully and completely give it to others.
I Thrive is an affirmation, a commitment to applying practical self-care regimens that motivate women to make themselves a priority.
Meetups include interactive wellness activities, demonstrations and resources, and tips and how-to's that focus on whole living practices like mindfulness, yoga, personal affirmations, clean eating, meal prep, journaling, goal-setting/organization and so much more.

This Month's Self-Care Topics:
How to Write Personal Affirmations
Learning Exercises & Techniques for Mindfulness Practice
I Thrive is an opportunity to…
Meet & bond with other women who are just as committed to self-care breakthroughs and transformations.
Receive encouragement and guidance that helps your daily practice.
Know you're not alone on this path. We're all figuring this self-love thing out together!
Be in a sacred space that honors vulnerability, and provides preparation and rejuvenation for the upcoming week.
Dig in and give yourself the love you deserve, the necessary and invaluable me-time that feeds the mind, body and soul.
Life is all about balance, and to maintain balance we must be intentional about giving ourselves what we need to have it. So, we're building an "I Thrive Tribe" who enjoys the process and celebrates the progress.
Meetups are held the last Sunday of every month and are only $12 per person.

Join us Sunday, July 30, 12pm - 3pm to learn how to create your own personal affirmations and to learn exercises and techniques for mindfulness practice.
*All materials included. However, we do ask that you bring your own yoga mat and a journal. Please dress comfortably. Workout or casual attire is recommended for this workshop.