POP UP SHOP | Vendors Wanted 1 day pop up registration fee is $60 2 day pop up registration fee is $100
About this Event
Your payment verifies your consent to the following:
To register as a vendor, a non-refundable fee of $60 for one day or $100 for two day paid via Eventbright will verify your participation in the "I Love Me on Purpose" Pop-Up Shop event on Saturday, April 24, 2021 and/or Saturday, June 26, 2021 from 12pm - 6pm at God's House of All Nations located at 8409 S Stony Island Avenue, Chicago, IL 60617.
In the event of a city-wide or state-wide issued stay at home order, riot, act of God or any occurrence beyond our control, the "I Love Me on Purpose" Pop Up Shop event will be rescheduled for a later date. If this event is canceled, this contract will become null and void and all vendors will receive a full refund.
MASKS AND SOCIAL DISTANCING is required by ALL PARTICPANTS at ALL TIMES.
Each vendor will be provided a 6-foot table and two chairs. Please bring your own linen. Vendors are permitted to bring displays and stands. However, if you are planning to bring an additional table you MUST notify the event team immediately after registering.
NO FOOD VENDORS ALLOWED | Only baked goods allowed. All baked goods MUST BE individually packaged.
Outlets are available for electronic equipment, but are limited. Please bring an extension cord or power strip to help accommodate your needs. The Pop Up Shop event will start at 12 noon and will end at 6pm on Saturday, April 24th and on Saturday, June 26th. Vendors will be able allowed access to the event space for setup beginning at 10:30 am. Loading and unloading vendor merchandise to and from the event space will be accessible via the side doors of the church on 84th Street and 84th Place.
I Love Me on Purpose and God's House of All Nations are not liable or responsible for any accidents or incidents that occur while vendors, volunteers or patrons are on the premises. Each vendor holds responsibility and liability for their own products and product effects.
As a registered vendor you are welcome to submit a promotional item (i.e., coupon, business card, flyer etc.), to be included in our complimentary registration bags given to all attendees. Promoting this event is a shared responsibility. We encourage you to invite your customer base to come out on the day(s) you intend to participate in the pop up shop event to maximize your profitability.
Your payment verifies your consent to these terms.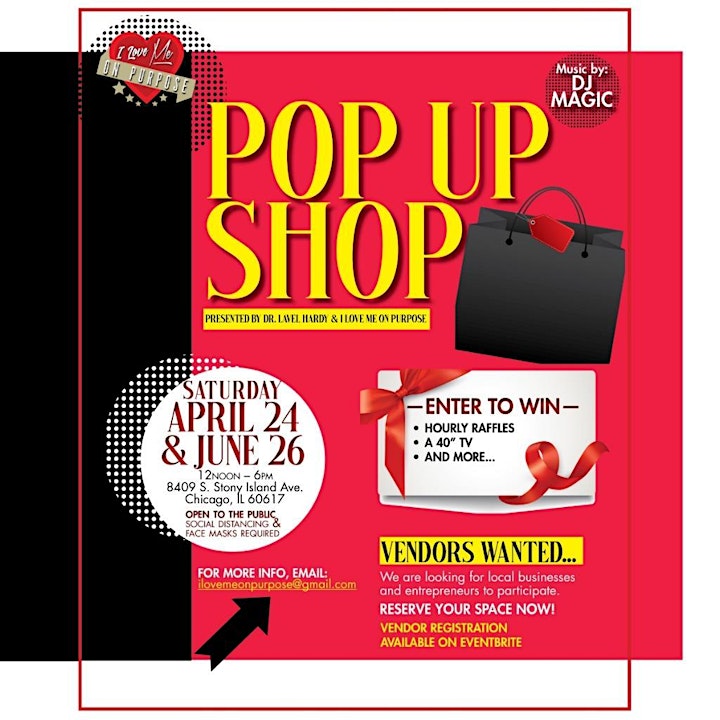 Date and Time
Location
Refund Policy