Description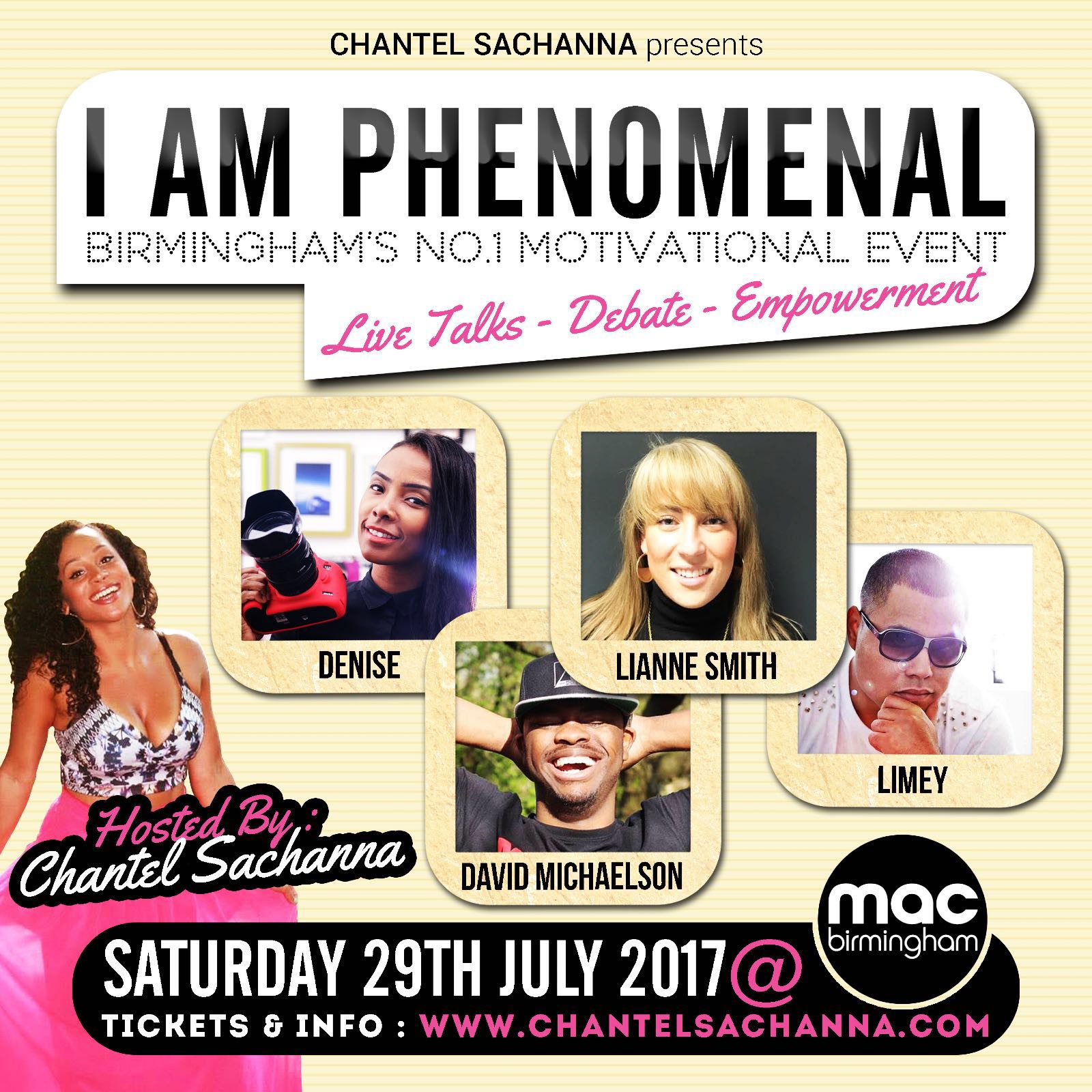 Birmingham's number one motivational event is back on Saturday 29 July 2017 and it's going to be another evening of pure motivational goodness!
This edition of I Am Phenomenal will feature four amazing speakers, sharing their stories of how they overcame barriers to achieve phenomenal results. The night will also include tips and tricks on how to elevate your life, a live debate of excellent discussion, networking opportunities, good vibes, free giveaways and a brilliant night out.
SPEAKERS INCLUDE:
DENISE - An internationally published photographer. Denise is the owner of Lensi Photography and has photographed many leading celebrities and public figures, including Barack Obama and Usher. Her story of leaving her job in the NHS to setting up her own successful business will inspire you to take your own leap of faith.
DAVID MICHAELSON – One of Birmingham's leading comedians. David, AKA Roadman, went from humble beginnings in Jamaica, to creating popular comedy sketches and videos that receive millions of views per week. His story of taking radical action to develop his mindset will give you tips and tools on how you can reinvent yourself.
LIMEY – A young director of a business with a £25m turnover. Limey's story of radical transformation and overcoming difficult challenges will empower you to work smarter to reach the top of your game.
LIANNE SMITH – An expert in branding yourself effectively to achieve excellent results every time. Lianne works relentlessly to support people to brand themselves, become highly employable, and achieve more sales through likeability. Lianne's tips and tricks will help you to nail job interviews and brand yourself effectively to achieve powerful results.
CHANTEL SACHANNA – Founder and host of I Am Phenomenal. Chantel is a motivational coach who has received national recognition for overcoming a stammer that was once so severe she sometimes couldn't say her own name. Chantel used the power of radical self-belief to overcome this barrier and now speaks in front of thousands.
DATE: Saturday 29 July 2017
VENUE: MAC Birmingham, Cannon Hill Park, Queen's Ride, Birmingham B12 9QH
TICKETS: £14
Doors open: 7:00pm
Event start: 7:30pm
Event End: 10:30pm
Watch footage from the March 2017 event here https://youtu.be/q--s_f1OlqI
Email: chantelsachanna@gmail.com
WhatsApp/Telephone/Text: +447828937181