Feeling stressed! Join I Am A Queen's Wellness Week for Teen Girls Ages 10-18!
About this event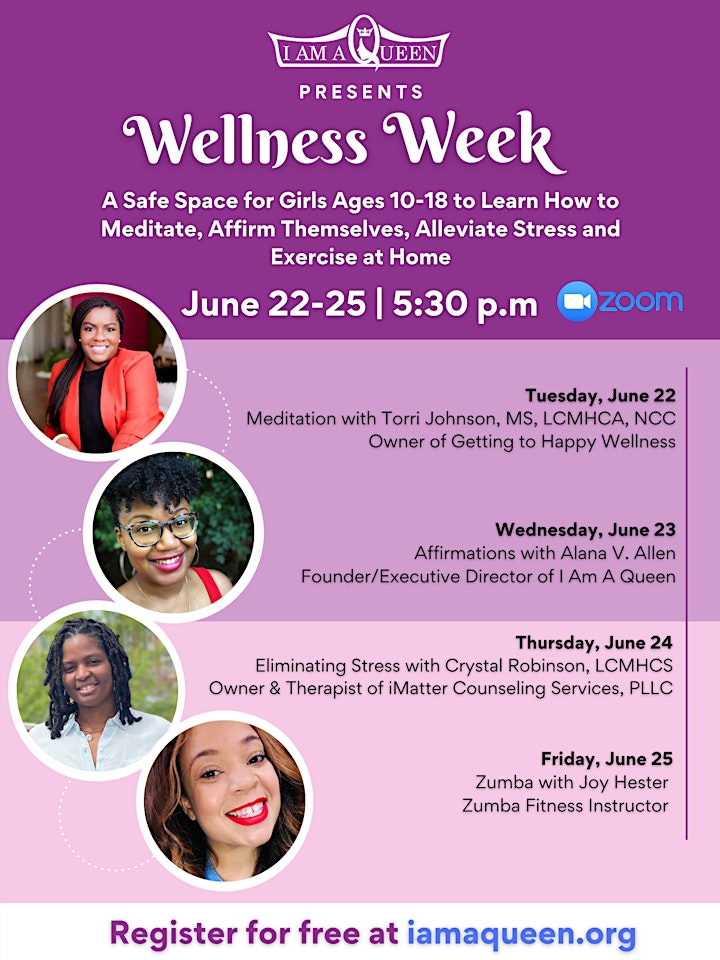 A Safe Space for Girls Ages 10-18 to Learn How to Meditate, Affirm Themselves, Alleviate Stress and Exercise at Home. Registration is free.
Week of June 22-25 starting at 5:30 p.m. via Zoom
Tuesday, June 22
Meditation with Torri Johnson, MS, LCMHCA, NCC
Owner of Getting to Happy Wellness
https://www.thegthstudio.com/
Wednesday, June 23
Affirmations with Alana V. Allen
Founder/Executive Director of I Am A Queen
https://www.iamaqueen.org
Thursday, June 24
Eliminating Stress with Crystal Robinson, LCMHCS
Owner & Therapist of iMatter Counseling Services, PLLC
https://www.imattercounselingservices.com/
Friday, June 25
Zumba with Joy Hester
Zumba Fitness Instructor
Organizer of I Am A Queen's Wellness Week for Girls!
I Am A Queen is a youth-focused mentoring nonprofit dedicated to ensuring that young women can reach their goals for higher education and leadership. Young women are selected annual to commit to the program and must demonstrate a high need and a high level of motivation to achieve what no one in their family has accomplished.
The program is intentional about building a girl's self-esteem, helping them to overcome obstacles and preparing them for college and a career.
I Am A Queen's Focus Areas:
Queens Empower, Queens Educate and Queens Engage 
I Am A Queen's Mission Statement: 
To empower girls with a crown of confidence by providing transformational mentoring programs that develops them into future leaders and community service pioneers.
I Am A Queen's Vision Statement:
"Every Time a Girl Says, I AM A QUEEN, She Breaks Chains of Rejection, Defeat and Pain Off Her Life"