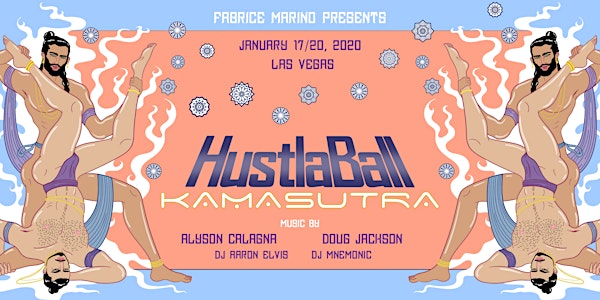 HustlaBall Las Vegas 2020
Welcome to the 7th Annual Hustlaball Las Vegas:Kama Sutra Edition. January 17th to 20th 2020 (MLK Holiday Weekend)
When and where
Location
Multiple Locations 4455 Paradise Rd Las Vegas, NV 89103
About this event
MAIN EVENT TICKETS SOLD OUT ONLINE! LIMITED TICKETS AVAILABLE AT THE DOOR!
HustlBall Las Vegas presents
KAMASUTRA the enjoyment of appropriate objects by the five senses of hearing, feeling, seeing, tasting and smelling, assisted by the mind together with the soul. The ingredient in this is a peculiar contact between the organ of sense and its object, and the consciousness of pleasure which arises from that contact is called Kamasutra
Event Schedule:
Friday, January 17, 2020 10pm to 4am
Position number one: The Opening
A classic opening party position which anyone can do.
Vanity, Hard Rock Hotel
DJ TBA
WEEKEND PASS: INCLUDED
VIP WEEKEND PASS: INCLUDED
Saturday January 18th 2020 8 PM to 10 PM
Position number two: Ascent to Desire Of the Real World
If you fancy something a little bit different give this party a try.
Real World Suite Cock-Tail party Open Bar
Hard Rock Hotel Real World Suite.
VIP WEEKEND PASS ONLY
Saturday January 19th 2020 10 PM to 4 AM
Position number three : The Bacchanalia
This can make you can try them all or just simply watch the show.
Entourage Las Vegas : Open Bar, Open Mind
DJ Aaron Elvis Los Angeles
DJ Mnemonic Vancouver B.C
VIP WEEKEND PASS INCLUDED
WEEKEND PASS INCLUDED
Sunday January 19th 2020 10 PM till late
The main position: HUSTLABALL KAMASUTRA
New Venue. 2 floors. One Kamasutra Temple
Artisan Hotel
DJ Doug Jackson Fort Lauderdale
DJ Alyson Calagna Denver
VIP WEEKEND PASS INCLUDED
WEEKEND PASS INCLUDED
Monday January 20th 2020 8PM
The show position: GAYVN AWARDS show and After Hour: OPEN BAR
Hard Rock Hotel
VIP WEEKEND PASS ONLY