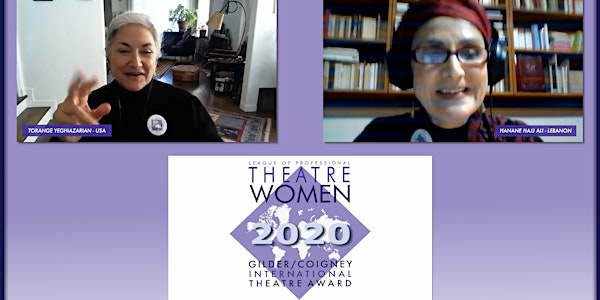 How to Keep Creating While Everything Around You is Falling Apart
An intimate conversation with Hanane Hajj Ali on being a theatre artist and activist in Lebanon, with a short film on her work.
Refund Policy
Contact the organizer to request a refund.
Eventbrite's fee is nonrefundable.
About this event
An intimate conversation with Gilder/Coigney 2020 Award Winner Hanane Hajj Ali of Lebanon. Ms. Ali shares a video of her work in Beirut as a theatre artist and activist, and then engages in a conversation with Torange Yeghiazarian, Founding Artistic Director of Golden Thread Productions.
"While I seek to forefront the social injustices and the political divisions that devastate our societies, I always believe that I can only do so by staying faithful to the pursuit of artistic excellence."
Fluent in English, French and Arabic, Hanane Hajj Ali is a woman who defies conventions, stereotypes and expectations and is a singularly-capable ambassador to represent the breadth and depth of both the evolving identities and realities for Arab women and Arab world theatre. Throughout her 40-year career, she has written, performed and directed acclaimed Arabic-language productions and also facilitated and supported hundreds of colleagues, students and communities in Lebanon and throughout the entire Middle East-North Africa (MENA) region. Ali's artistic career started as a founding member of Hakawati/Storytellers Theater in 1978, the Arab world's pioneering experiment in socially engaged community led theater, where she was an actor and writer until 1992. In 1999, she co-founded Shams Association which bridges the sectarian divides of Lebanese society and brings together young artists from different backgrounds. Jogging, her most recent solo piece, is a "partly autobiographical and taboo-breaking performance that tackles the Bermuda triangle of Religion, Sex, and Politics" which she has toured throughout the MENA region and Europe, including the 2017 Edinburgh International Festival, where she received the Vertebrae Prize for Best Actor. In collaboration with the Sundance Institute she performed Jogging in 2019 at the Kennedy Center in Washington, DC., and in February 2020 she performed the piece at the Guthrie Theater in Minneapolis. As a teacher and trainer, Ali has worked with hundreds of young people from Egypt, Syria, Palestine, Lebanon, Jordan, Algeria, Morocco, Tunisia, Yemen, Libya, Iraq, Mauritania, Saudi Arabia, and The UAE, and leads sessions on theatre practice, leadership, cultural management and cultural policy. Committed to the welfare of the MENA region, Ali remains an activist, cooperating with numerous NGO's and co-founding three of the Arab region's most important cultural organizations: Al Mawred's Culture Resource, Ettijahat and Action for Hope.
Torange Yeghiazarian is the Founding Artistic Director of Golden Thread Productions, the first American theatre company focused on the Middle East where she has helped to build the careers of numerous artists and launched the Middle East North African Theater Makers Alliance (MENATMA), the first national organization advocating for the MENA theater community. Torange has been recognized by Theatre Bay Area and is one of Theatre Communication Group's Legacy Leaders of Color. She was honored by the Cairo International Theatre Festival and the Symposium on Equity in the Entertainment Industry at Stanford University. Born in Iran and of Armenian heritage, Torange holds a Master's degree in Theatre Arts from San Francisco State University.