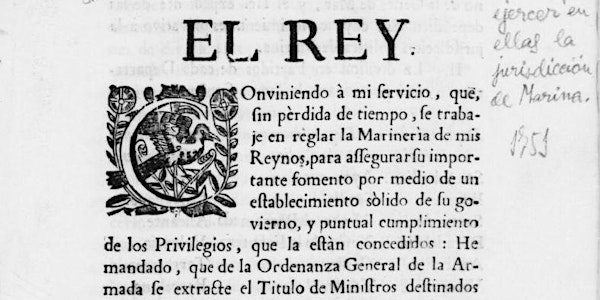 How to Host a Herencia Transcribe-a-thon [Webinar]
Learn what a Transcribe-a-thon is and how you can hold your own local transcription event!
About this event
Thursday, March 12, 2020
12:00 PM – 1:00 PM (ET) ENGLISH
2:00 PM – 3:00 PM (ET) SPANISH
We are excited to launch Herencia: Centuries of Spanish Legal Documents! Going live in late February, this is the Library's first crowdsourced transcription project wholly in languages other than English.
The Law Library of Congress invites you to help improve access to our unique collection of historic Spanish legal materials through the Library's crowdsourcing platform, By the People (BTP)! BTP is a virtual volunteering website where anyone with an internet connection can transcribe digitized Library collections to improve discoverability and use while engaging deeply with the materials.
In preparation for the first release phase of these documents later this month, we will offer webinars to support volunteers working on this project. This second webinar in the series will provide instruction on what to expect at the Transcribe-a-thon AND how to hold your own transcription event!
WHEN IS THE WEBINAR? We will offer this webinar in English AND Spanish. All times are in Eastern Standard Time.
To join the English-language session, register for the NOON webinar.
To join the Spanish-language session, register for the 2:00 PM webinar.
WHO SHOULD ATTEND? Crowdsourcing volunteers; outreach librarians; student bar associations; genealogists; paleographers; students of Spanish, Latin, and Catalan; and lifelong learners. You do not need to speak or read Spanish, Latin, or Catalan to help with this project!
HOW LONG IS THE WEBINAR? The webinar is expected to last 1 hour, with time for your questions at the end.
HOW DO I LOG INTO THE WEBINAR? Registered attendees will be sent login information in their confirmation email and will receive reminders ahead of the webinar.
WHAT IF I CAN'T MAKE IT TO THE LIVE WEBINAR? No worries! As long as you are registered, we can send you a link to the recorded webinar session (usually the next day).
We hope you can join us for the upcoming virtual and in-person Transcribe-a-thon! We look forward to your many valuable contributions as we work to bring this rare collection to life!