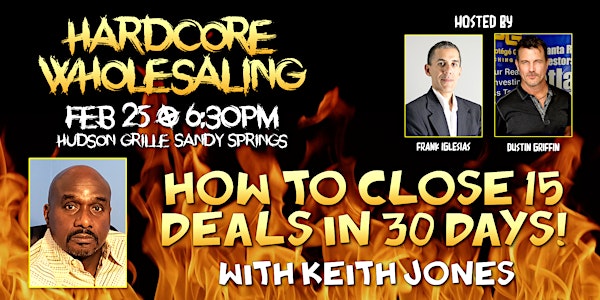 How to Close 15 Deals in 30 Days at Hardcore Wholesaling Event
When and where
Location
Hudson Grille 6317 Roswell Rd Sandy Springs, GA 30328
Description
HARDCORE WHOLESALING
How To Close 15 Deals in 30 Days!!!
with

Keith Jones
Join us at the ALL NEW HARDCORE WHOLESALING Event for our first meeting on Tuesday, February 25th at 6:30PM at the Hudson Grille in Sandy Springs located at 6317 Roswell Rd in Sandy Springs with Special Guest, Keith Jones, who will teach you "How to Close 15 Deals in 30 Days!" That sounds pretty hardcore!
Come join us at Hardcore Wholesaling Event and Keith will show you how to market and work with people to put together MORE DEALS FASTER!
At the event, Keith will show you:
Finding Motivated sellers
Evaluating the deals
Building a rapport with the owner
Negotiating the deals
Building your buyers list
Finding an investor friendly closing attorney
Closing your deals and Cashing your check
Answer your questions and more...
Need to do more deals? Keith is your man. He has been wholesaling for years in Atlanta for 20+ years and has had tremendous success making the business work for him week in and week out. RSVP Now and come learn how to be a six figure real estate wholesaler!
RSVP NOW & DON'T MISS THIS NEW EVENT!
Atlanta REIA Members can RSVP Online for $8 or pay $10 at the door. Not-yet-members can RSVP Online for $15 or pay $20 at the door.
Hardcore Wholesaling is hosted by Frank Iglesias & Dustin Griffin who will be bringing in local and national wholesale real estate experts each month to teach you how to take your wholesaling business to the next level so you too can become a Hardcore Six Figure Real Estate Wholesaler!