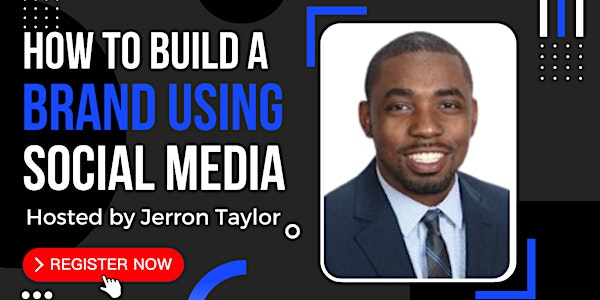 How to Build a Brand Using Social Media - Audiobook Workshop
To help business owners and creatives better utilize social/digital media marketing tools to grow brand awareness and increase sales
About this event
Event: "How to Build a Brand using Social Media" - Monthly Audiobook Discussion & Workshop
Dates: Sundays (8/21, 9/25, 10/16, 11/13)
Time: 7pm EST
Jerron has provided a link to the audiobook below so that you may listen, take notes and discuss any questions you have using social media to build your brand.
Topics: 3 topics here below
Discuss "How to Build a Brand using Social Media"
Discuss any current social/digital media news
Q&A session for those with any questions or insights for the group
Event Goal: To help business owners and creatives better utilize social/digital media marketing tools to grow brand awareness and increase sales
Who: Business owners, Creatives, Musicians, Non-profits, Start-ups and Anyone who wants to grow their brand and social media following
Why: Digital/Social media marketing is an affordable and effective way to reach your target audience and tell your brand story
Solve: Close the gap between small businesses and major corps. by teaching strategic Social/Digital marketing tactics to increase visibility online
RSVP today and add this event to your calendar!
More about Jerron
Originally from Sandusky, Ohio I attended Xavier University in Cincinnati, Ohio and earned my Bachelor's degree in Advertising with minors in Business and Media Studies. I then went on to Loyola University Chicago and earned my Master's degree in Digital Media and Storytelling.
I started my career at an Influencer Marketing company working for brands such as Red Robin and Dignity Health creating social media campaigns. I then made the move to the agency side and began work as a Digital Investment Strategist for NBC television shows in Los Angeles. After this I went on to work with Wells Fargo as a Media Analyst at their agency and then moved on to be a Media Planner for Toyota national.
I am grateful these roles have all contributed to my Digital Media experience over the years. I now run my own Branding company with the goal to help business owners maximize Digital Marketing tools and assist with creative production, press releases, setting up targeted social media posts, and recording digital interviews.
"Make Money Socially: How to Build a Brand using Social Media" will take an inside look into the rise of social media marketing and learn how small businesses, social media influencers and everyday users of social media, can best utilize social media to help build their brand. This will serve as a guide for those looking to build their brand using today's social media and how this brand can lead to extra dollars in your pocket.