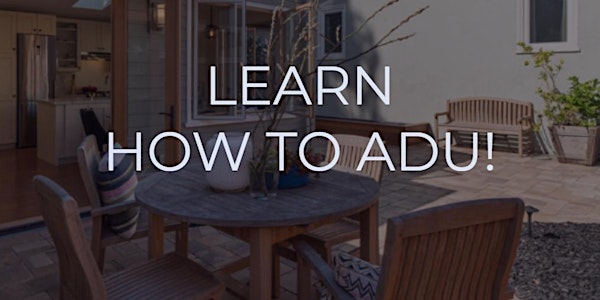 HOW TO ADU (Accessory Dwelling Unit) DESIGN. FINANCE. CONSTRUCT. LEASE. PRO
ADU'ing MADE SIMPLE| LET US SHOW YOU HOW TO ADU (Accessory Dwelling Units) Design. Finance. Construct. Lease. Protect.
About this event
LET HOUZD BY HPP CARES CDE HELP YOU MAKE ADU'ing SIMPLE
FREE! NO SALES PITCH ! GOOD HONEST RESOURCES TO PREVENT YOU FROM MAKING COSTLY MISTAKES.
A PROPERTY OWNER EDUCATIONAL MEETUP
What To bring (On Your Smart Phone Take photos of your street mainly so we can see electrical lines), and take a photos of your back yard from the 4 corners also if you see electrical lines crossing your back yard please take a picture as well)
FREE PROPERTY OWNER Webinar! Learn Everything you need to know about building an Accessory Dwelling Unit (ADU). We will be discussing all your options for creating a passive income, and additional housing by adding an ADU (Accessory Dwelling Unit) to your home! This 2-hour FREE session will leave you with the step by steps you need to know and do in order to get your unit built and generating revenue.
The webinar will address the following concerns:
Can I build an ADU on my property? How many can I build?
How do I get a permit to build ADU? Will there be programs to subsidize my units and cost?
How do I hire a builder and manage construction?
How do I pay for an ADU? What liability am I inquiring as the owner?
I'm a landlord now what …. Property Taxes, Insurance, Liability, ...and so much more.
This session will leave you with few questions and more answers.
REGISTRATION PACKET must be completed in order to gain access to our webinar. As a nonprofit we are funded by grants and must have records of all participants we have assisted through our no cost webinars. WEBINAR LINK WILL BE EMAILED TO YOU 1 HOUR PRIOR TO THE SESSION.
COST: NO CHARGE
LOCATION: FROM THE CONVENIENCE OF YOUR HOME. NO MASK, GLOVES, HAND SANITIZER REQUIRED
PLEASE NOTE THE WEBINAR LINK WILL BE PROVIDED TO YOU VIA EMAIL PRIOR TO THE SESSION FOR PARTCIPANTS THAT HAVE COMPLETED THE REGISTRATION PACKET IN ITS ENTIRETY.
Let's face it the income is great but with all rewards come the liabilities!
Still have questions send over and email: adu@hppcares.org or give us a call 562.281.8861
HOUZD by HPP CARES HOW TO ADU is here to make ADU'ing simple.
Source:: http://www.hppcares.org/adu-accessory-dwelling-units
Tagged ADU, Accessory Dwelling Unit, Passive Income, Landlord
*********************************************************************************************
ALL WORKSHOPS ARE CONDUCTED VIRTUALLY VIA WEBINAR ZOOM.
(NO IN PERSON WORKSHOPS) Per the Governor's July13, 2020 orders, in the best interest and safety of our community and staff, we are working remotely through March 31, 2020. We are doing our part to flatten the curve. Meanwhile, we remain committed to serving clients at these extraordinary times.
LEARN FROM THE CONVENIENCE OF YOUR HOME.NO MASK, GLOVES, HAND SANITIZER REQUIRED