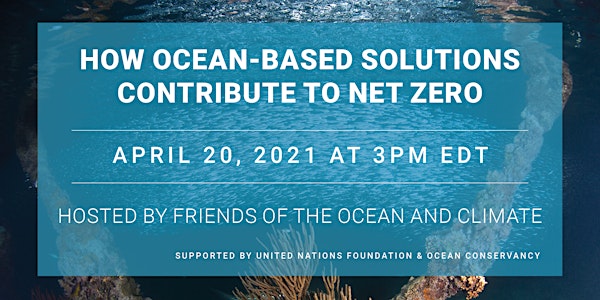 How Ocean-Based Solutions Contribute to Net Zero
An event of the Friends of the Ocean and Climate in advance of the Leaders Summit on Climate.
By Friends of the Ocean and Climate
Date and time
Tuesday, April 20, 2021 · 12 - 1:45pm PDT
About this event
How Ocean-Based Solutions Contribute to Net Zero has received an overwhelming level of interest. If you are having trouble accessing the live event, we encourage you to watch the livestream by clicking here.
From ocean acidification to sea level rise, the impacts of greenhouse gas pollution are damaging ocean communities, ecosystems, and economies worldwide. A dramatic increase in climate ambition is essential to protect the health of our ocean. And, as a source of sustainable climate solutions, the ocean can support the effort to keep the goals of the Paris Agreement within reach.
In support of President Biden's Leaders Summit on Climate and to deepen understanding of the role that the ocean can play in achieving net-zero greenhouse gas emissions, the Friends of the Ocean and Climate countries are hosting a virtual side event with U.S. Special Presidential Envoy for Climate John F. Kerry and leaders from across the globe.
Speakers will demonstrate their commitment to ambitious ocean-climate action and highlight how they are leveraging ocean-based solutions—including scaling up offshore renewable energy, reducing emissions from shipping, and protecting and restoring blue carbon ecosystems—to help eliminate carbon pollution. They will also discuss increasing resilience through initiatives such as marine protected areas and climate-ready fisheries.
Keynote: Special Presidential Envoy for Climate John F. Kerry (United States)
Moderator: Dr. Jane Lubchenco, Deputy Director of Climate and Environment, Office of Science and Technology Policy (United States)
H.E. Deputy Prime Minister, Minister of Justice and the North Sea Vincent Van Quickenborne (Belgium)
H.E. Minister of Foreign Affairs of Chile Andrés Allamand (Chile)
H.E. Minister of Environment and Energy of Costa Rica Andrea Meza Murillo (Costa Rica)
H.E. Prime Minister of Fiji Frank Bainimarama (Fiji)
Deputy Director-General for Engineering Affairs, Maritime Bureau, Ministry of Land, Infrastructure, Transport and Tourism of Japan Mr. Hideaki Saito (Japan)
H.E. President of the Republic of the Marshall Islands David Kabua (Marshall Islands)
H.E. Minister of Climate and Environment of Norway Mr. Sveinung Rotevatn (Norway)
H. E. Minister of Agriculture, Climate Change and Environment of Seychelles Flavien Joubert (Seychelles)
H.E. U.K. Minister for Pacific and the Environment Lord Goldsmith (United Kingdom)
H.E. U.S. Secretary of Energy Jennifer Granholm (United States)
Governor of Hawaii David Ige (United States – Hawaii)
Hosted by
Friends of the Ocean and Climate
Organized with support from