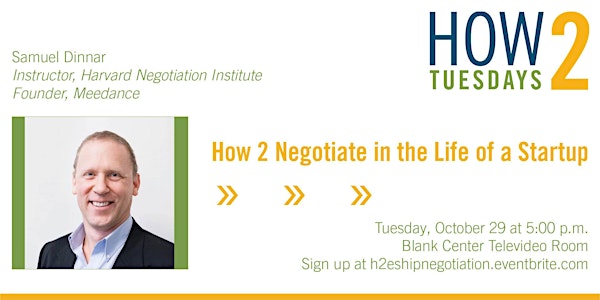 How 2 Negotiate in the Life of a Startup
When and where
Location
Blank Center Televideo Room Babson College 231 Forest Street Babson Park, MA 02457
Description
The Blank Center's #How2Tuesday series continues on Tuesday, October 29 at 5pm in the Blank Center Televideo Room: How 2 Negotiate in the Life of a Startup with Samuel Dinnar!

Entrepreneurship is a key component of leadership, both in startups and with corporate change management. A growing number of corporations are strategically emphasizing the importance of innovation, growth, and change, by partnering with innovative startups, acquiring innovations, merging with change-inducing teams, and encouraging internal entrepreneurship. But still, the great majority (80-90%) of all such entrepreneurial efforts fail! During this session, Samuel "Mooly" Dinnar, instructor with Harvard's Program on Negotiation, will help entrepreneurs understand and learn how to manage relationships to lead to entrepreneurial success. Topics that will be covered include:

- Why do most startups fail?
- What are the challenges in corporate-to-startup partnerships?
- How should you deal with the critical entrepreneurship challenges of complexity, uncertainty, long-term relationships, emotions and egos?

About Samuel "Mooly" Dinnar
Samuel "Mooly" Dinnar is an instructor with the Program on Negotiation at Harvard, a research affiliate at MIT, and the founder of Meedance, a company providing negotiation, training, and mediation services based on his 25 years of international experience as an entrepreneur, executive, board member, and venture capitalist.

What are #How2Tuesdays?:
Want to learn something really practical to get your startup moving in the right direction? #How2Tuesdays are short, workshop style sessions meant to bring you very specific, user friendly instruction on some of the most important things you need to know for your venture. Every Tuesday at 5pm in the Blank Center!