Event Information
Refund policy
Refunds up to 30 days before event
Eventbrite's fee is nonrefundable.
Come join baker Jojo Emerson at Forge Baking Company to bring the art of bread baking to your home!
About this event
In‌ ‌this‌ ‌small-group,‌ ‌hands-on‌ ‌class‌ ‌held‌ ‌in‌ ‌Forge's ‌bakery,‌ ‌you'll‌ ‌master‌ ‌techniques‌ ‌for‌ ‌home‌ ‌baking‌ ‌bread.‌ ‌From‌ ‌easy‌ ‌artisan‌ ‌loaves‌ ‌to‌ ‌tangy‌ ‌sourdough,‌ ‌we‌ ‌will‌ ‌bake‌ ‌two ‌unique‌ loaves of ‌bread ‌during‌ ‌our‌ ‌three-hour‌ ‌session.‌ ‌You'll‌ ‌learn‌ ‌to‌ ‌use ‌the‌ ‌tools‌ ‌required‌ ‌to‌ ‌successfully‌ ‌bake‌ ‌bread‌ ‌on‌ ‌your‌ ‌own.‌ ‌
During‌ ‌our‌ ‌intermission,‌ ‌you‌ ‌may‌ ‌pop‌ ‌in‌to‌ ‌the‌ ‌cafe‌ ‌for‌ ‌a‌ ‌meal‌ ‌on‌ ‌us,‌ ‌or‌ ‌stay‌ ‌for‌ ‌an‌ ‌optional‌ ‌intensive‌ ‌on‌ ‌sourdough‌ ‌baking.‌ ‌ ‌
What this class includes:
Two fresh-baked bread loaves
Sourdough starter
Dough scraper
Forge sandwich or salad
Be prepared to be on your feet, standing at a table, and using your hands for the majority of the class. Come wearing comfortable, non-slip, and closed-toe shoes.
About Forge Baking Company:
When Jennifer Park and Tucker Lewis opened Forge Baking Company in 2014, their hope was to bring high-quality products with intention and care. With two additional cafes open, Diesel and Bloc, they wanted to have creative control of their bread and pastries in order to bring the best to the Somerville community. After 5 years of serving Somerville with naturally leavened hand-shaped bread, we are excited to share our knowledge for you to bring to your own kitchen.
About baker Jojo Emerson:
Jojo began making bread during graduate school, and quickly learned that her passion lay not in academia but in artisan baking. She taught herself bread baking through books, classes, workshops, and mainly, the internet. When others learned of her "hobby" (obsession), she began hosting bread classes from her Somerville kitchen. What began as friends coming over to bake morphed into a formal class with a curriculum and a months-long waitlist. She finally quit her academic job to pursue professional baking at Forge, and hasn't looked back since.
How about hosting your own private event? Email us at info@forgebakingco.com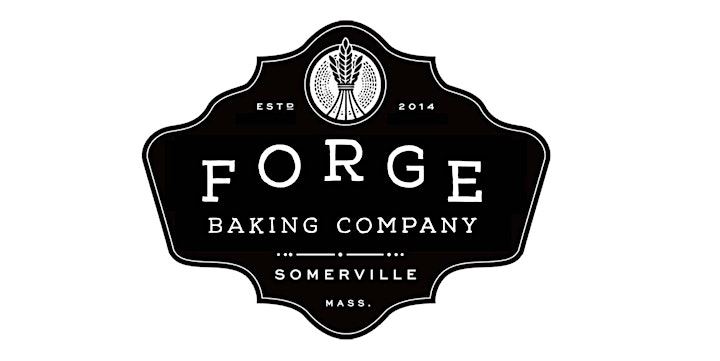 Location
Refund policy
Refunds up to 30 days before event
Eventbrite's fee is nonrefundable.