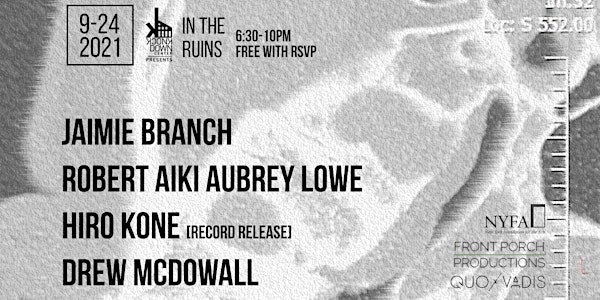 Hiro Kone / Robert Aiki Aubrey Lowe / Drew McDowall / jaimie branch
Free w/ RSVP, made possible with the help of the NYFA.
When and where
Location
Ruins at Knockdown Center (Outdoor) 52-19 Flushing Ave Queens, NY
Performers
Headliners
More Performers
Robert Aiki Aubrey Lowe
Drew McDowall
Jaimie Branch
About this event
A night of experimental electronics and improvisation, w/ genius trumpeter Jaimie Branch, Robert Aiki Aubrey Lowe (Candyman OST), & noise explorers Hiro Kone & Drew McDowall.
Drew McDowall
The legendary Drew McDowall returns to the live stage for the first time since the release of 2020's Agalma (Dais Records). Renowned for his involvement with Coil, Psychic TV, and numerous other collaborators, his solo work pushes the limits of an ethereal and hypnotic sound which knows no comparison. This latest offering has seen McDowall take a more abstract approach to his signature style of ritual music, landing right at the crossroads of holiness and hallucination.
Hiro Kone
Silvercoat The Throng (Dais Records) is the latest album from New York-based electronic musician and producer Hiro Kone, and will be released September 24th. Building on the reputation forged by previous recordings and performances, she continues her deconstructive approach to composition utilizing modular synthesis, noise, and field recordings. In these latest passages she dives back into the darkness and absence where self-discovery is possible, and comes out the other side having traversed distinctively new terrains.
Robert Aiki Aubrey Lowe
It is of no surprise this multi-instrumentalist was chosen to provide an original soundtrack to Nia DaCosta and Jordan Peele's Candyman. Lowe's blend of modular synthesis and voice creates a subliminally haunting tone which fits naturally with the rebirth of this horror classic, and translates to a decidedly memorable live experience as well. Known initially for his project Lichens and as a member of 90 Day Men, his extensive discography is easily categorized as a progression in experimental music.
jaimie branch
jaimie branch is an improviser, composer and trumpeter based in Brooklyn, NY. Earlier this year saw the acclaimed Fly or Die Live (International Anthem Recording Company), a singular epic of raw cosmic brilliance from her quartet performing the previously released Fly or Die and Fly or Die II: Bird Dogs of Paradise. branch's works convey a dissatisfaction of American politics with a cutting sense of humor, serving to balance experimentalism and accessibility with party and erudition, "jazz" and the next thing.