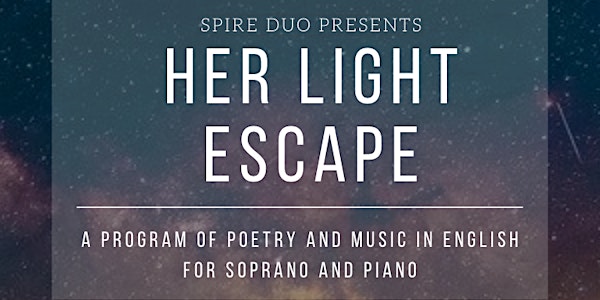 Her Light Escape
"Her Light Escape," a program of art song in English for soprano and piano that mirrors the cyclical nature of the changing seasons.
About this event
Click to view a promo video of this program and learn more about Spire Duo!
This is a house concert! To protect the privacy of our host, the address of the home in the Raleigh Hills area of Portland will be sent to you via email after you have purchased a ticket. All are welcome.
Music begins at 7 PM. Please arrive any time after 6:30 (in consideration of our performers and preparations, please, no early birds.) Feel free to stay and chat until 9:30.
Tickets: $15.00. All proceeds go to the artists. Guests are encouraged to bring a little cash for any additional donation that the music inspires them to make!
Feel free to share the event information with friends.
This is a potluck event: please bring something to eat or drink for friendly chatting before and after. This house concert series aims to provide healthy food, including vegan, vegetarian and gluten-free dishes and finger foods. We can always use wine, beer, kombucha and low sugar beverages. Coffee, tea and water will be provided.
The host and the artists have agreed to act as a drop-off location for food donations to the Oregon Food Bank, which serves hunger-relief agencies. Please consult this list of accepted items to be sure your item(s) will work: https://www.oregonfoodbank.org/get-involved/host-a-food-or-fund-drive/what-to-donate/
There is a small, very friendly lap-dog at the property who will enjoy the music just as much as the guests will. He will also enjoy the guests as much as the music.
The home is wheelchair-accessible, with one step before the front door and none inside. Please call the host if you need help into the house.
About the program:
We begin our program with the changing colors and falling leaves of autumn, venture through the harsh elements and episodic slumps of the winter, rejoice in the burgeoning of new life in the spring, and finally arrive in the welcome quietude of a warm summer, reflecting on both sentimental moments of the past as well as life's present beauty. The words of master poets such as Emily Dickinson, W. H. Auden, and Robert Louis Stevenson capture the joy, dejection, wonder, and renewal of a year in a life well-lived through the music of composers such as Benjamin Britten, André Previn, Dominick Argento, and more.
For more information on the performers, visit www.spireduo.com.
Fall
As imperceptibly as grief | André Previn
Autumn Evening | Roger Quilter
Now the leaves are Falling are Fast | Benjamin Britten
Autumn | Lee Hoiby
Winter
Winter | Dominick Argento
The Winter Song | Lee Hoiby
Stopping by the Woods on a Snowy Evening | Ned Rorem
Sleep | Ivor Gurney
Spring
Spring | Dominick Argento
Spring Sorrow | John Ireland
Oh Fair to See | Gerald Finzi
always it's Spring | Lee Hoiby
Summer
Summer Song | Lee Hoiby
Early in the Morning | Ned Rorem
Touch Me | Tom Cipullo
The Last Rose of Summer | arr. Benjamin Britten