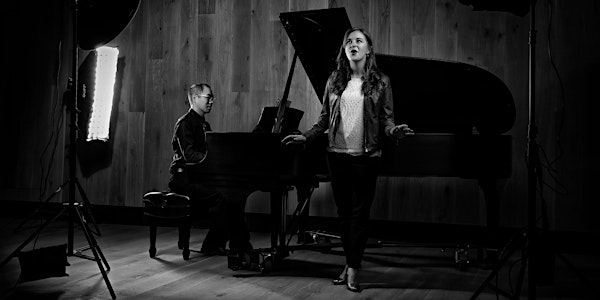 Her Light Escape
"Her Light Escape," a program of art song in English for soprano and piano that mirrors the cyclical nature of the changing seasons.
When and where
Location
Tsunami Books 2585 Willamette Street Eugene, OR 97405
About this event
Promo video:
Click to view a video on the making of this program!
So far, audience members have said things like:
"What a fabulous concert! I can't think of any way [Spire Duo] could have improved upon it - thoughtful & cohesive concept, brilliant lyric & musical selections, excellent presentation, & stellar performances . . . by BOTH [Emma] & Andrew." - Lexy, W. from Eugene
"The concert was a true delight. An unexpected surprise really. I loved being exposed to this new-to-me Art Song which just as appropriately could be called Heart Song :) To sing through the seasons of grief and loss with such a voice as yours Emma somehow gave a tangibility to those deep feelings..and the dance of Andrew's fingers on the piano added a deep undergirding depth to each piece. Thank you for sharing your gifts. " -- Jakki S. M., from Junction City
About the program:
We begin our program with the changing colors and falling leaves of autumn, venture through the harsh elements and episodic slumps of the winter, rejoice in the burgeoning of new life in the spring, and finally arrive in the welcome quietude of a warm summer, reflecting on both sentimental moments of the past as well as life's present beauty. The words of master poets such as Emily Dickinson, W. H. Auden, and Robert Louis Stevenson capture the joy, dejection, wonder, and renewal of a year in a life well-lived through the music of composers such as Benjamin Britten, André Previn, Dominick Argento, and more.
The suggested ticket price is $20, however all are welcome and therefore tickets are available at the door on a sliding scale ($16-$20). The Eventbrite platform does not allow us to create a sliding scale, so please call Tsunami books to reserve tickets ahead of time on a sliding scale at 541-345-8986 .
For more information on the performers, visit www.spireduo.com.
Fall
As imperceptibly as grief | André Previn
Autumn Evening | Roger Quilter
Now the leaves are Falling are Fast | Benjamin Britten
Autumn | Lee Hoiby
Winter
Winter | Dominick Argento
The Winter Song | Lee Hoiby
Stopping by the Woods on a Snowy Evening | Ned Rorem
Sleep | Ivor Gurney
Spring
Spring | Dominick Argento
Spring Sorrow | John Ireland
Oh Fair to See | Gerald Finzi
always it's Spring | Lee Hoiby
Summer
Summer Song | Lee Hoiby
Early in the Morning | Ned Rorem
Touch Me | Tom Cipullo
The Last Rose of Summer | arr. Benjamin Britten