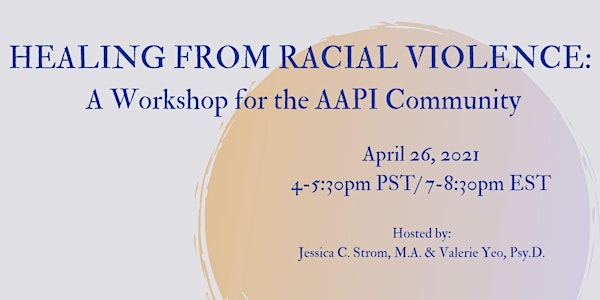 Healing from Racial Violence: A Workshop for the AAPI Community
Moving through grief & rage by connecting with self, inner wisdom, creativity, community, land, & universe
About this event
This offering is a free workshop for AAPI and Asian Identifying Beings to gather amidst the heightened awareness of violence against our community this past year. On this full moon, we will mindfully bring awareness to the collective grief and rage moving through us. After some activities that deepen our connection to the earth and our inner wisdom, we will engage the artist within us through creative outlets of journaling or visual art (or both, if you choose!). You can think of this space as a ceremonial workshop of sorts. We ask that all attendees honor that sacred space.
Please note: While we will be integrating therapeutic elements, this is not a therapy space. We encourage you to seek therapy if this feels congruent for you. Resources for finding a therapist are available in the link below.
For those who feel called and are able, we encourage you to show gratitude for this workshop by donating directly to one of the AAPI organizations at this link: https://linktr.ee/aapi_space
Your facilitators are Valerie and Jessica. Over a decade ago, these two kindred souls met during graduate study and forged a bond that lasts to this day. Below is a snippet of their life experiences that bring them together to collaborate on this offering.
*Closed captioning will be available during this event.
Valerie Yeo
Valerie (she/her/hers) is Chinese-American, and grew up in Singapore, immigrating to the United States as an adolescent. In her work as a licensed psychologist, she values holding space for BIPOC individuals, with emphasis on the AAPI community who have experiences of racial and religious trauma. Her role as a psychologist includes teaching and mentoring future mental health practitioners. Valerie believes strongly in honoring our emotional and somatic selves, which we tend to overlook in favor of our cognitive selves. The integration of wholeness within ourselves is a key part of healing. This value also manifests through her role as a visual artist. Her most recent painting series is of ocean waves, integrating themes of movement, power, the ephemeral nature of emotions, and allowing an outflow from stagnant places. She hopes this space can serve as a time to share with other members of our AAPI community, and to give voice to grief, rage, and any other emotions that may arise, with the goal of moving through to healing.
Fun fact: In her spare time, you can find her cooking and taking 800 pictures of Georgette, her tuxedo cat.
Jessica Strom
Jessica (she/her/siya) comes from Tagalog and Ilonggo lineage. Her path has seen her hold various roles as an educator, herbalist, pianist, creator, editorial assistant, and counselor. Through integrating these skills, she hopes to build spaces where others can connect to their intuition, recall ancient memories, and create. She believes nature, music, art, and story are restorative. The healing artistry of the skies inspired her most recent music release Sky Improvisations on piano. Her studies as an herbalist focus on trusting intuition, learning from plants, folklore & mythology, and spiritual connection to ancestors. She can hear her soul most clearly when listening to the Land and in liminal times or spaces. As a facilitator, Jessica hopes to collaborate with kindred spirits and to guide others to access that deep knowing within them through remembering that we are nature and belong to the universe around us.
Fun Fact: She loves to play TTRPG and used to lead an after-school DND club for kids!