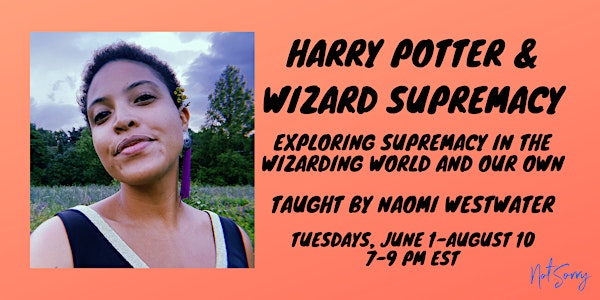 Harry Potter & Wizard Supremacy: Exploring Supremacy in the Wizarding World
Naomi Westwater will explore supremacy in the wizarding world and the parallels in our own culture with intersectionality and compassion.
Refund Policy
Contact the organizer to request a refund.
Eventbrite's fee is nonrefundable.
About this event
A virtual, 10 week course that dives into the wizarding world of Harry Potter and the supremacy that is a major theme throughout the books. This course will explore wizard supremacy by diving deep into sections of the text and reading with intention and reflection. We will explore where supremacy appears in the book, in our culture, and in ourselves. The course will include writing prompts, discussion, and real life sources for further exploration of the themes.
Topics will include: intersectionality, the spectrum of wizard supremacy, Arthur Weasley's fetishization of muggles, and how centaurs, goblins, and house-elves all respond to living in a wizard supremacy culture. We will use books, videos, podcasts, and more to reflect on how the text mirrors our own society, and writing to explore how the themes appear in our personal lives.
Week by Week Class Descriptions*
Week I : Wizard Supremacy: In which we discuss the spectrum of supremacy
Week II: Hogwarts, The Ministry of Magic & Systemic Supremacy: In which we discuss the supremacy of institutions
Week III: Voldemort, The Dursleys, & Fear: In which we discuss how fear impacts our actions and is used to gain power
Week IV: The Trio & Their Upbringing: In which we discuss Ron, Harry, & Hermione's world views and their relationship to wizard supremacy
Week V: Intersectionality: In which we discuss the crossroads of privilege and oppression
Week VI: House-Elves A Case Study: In which we discuss internalized hatred, oppression, and how house-elves saved the wizarding world
Week VII: Fetishization A Case Study: In which we discuss Arthur Wesley's obsession with and ignorance of/about muggle culture
Week VIII: Out of Place A Case Study: In which we discuss Hagrid, how society won't let him fit in, and his own assumptions about the world and people around him
Week IX: Means & Ends: In which we discuss Dementors, Umbridge, & Snape and if unjust means can lead to just ends
Week X: Compassion, Joy, & Other Antidotes: In which we discuss ways to combat supremacy in the books and in our own world
Classes will be recorded for the sole purpose of class members who have to miss a class, part of a class, or want to rewatch. It will not be publicly distributed.
* This is a 10-week course from June 1 - August 10th, with the week of July 6th off.
Scholarships
Apply for a full or partial scholarship: https://forms.gle/smMU7J7y9iGMucBV9
Pledge a full or partial scholarship: https://forms.gle/bj9qtGUu2ZHGjdh27
About Naomi
Naomi Westwater (she/her) is a musician, producer, and spiritual leader from Massachusetts. She holds an interdisciplinary B.A. from Goucher College in The Practice and Theory of Storymaking and a Master of Music degree from Berklee College of Music in Contemporary Performance and Production.
As a queer, Black, woman, and intuitive, Naomi's work is inspired by race, rage, relationships, and chronic pain. Her goal is to create work that empowers and helps people feel their feelings.
Naomi's work has been featured in WBUR's The Artery, Vanyaland, The Lily, and The Boston Compass. She has been awarded The Princeton Price in Race Relations, the Kratz Center for Creative Writing Fellowship, a Club Passim Iguana Fund grant, a Boston Opportunity Fund grant, and the Post Master's Fellowship from Berklee College of Music. You can find more information about Naomi on her website and on Instagram.