Description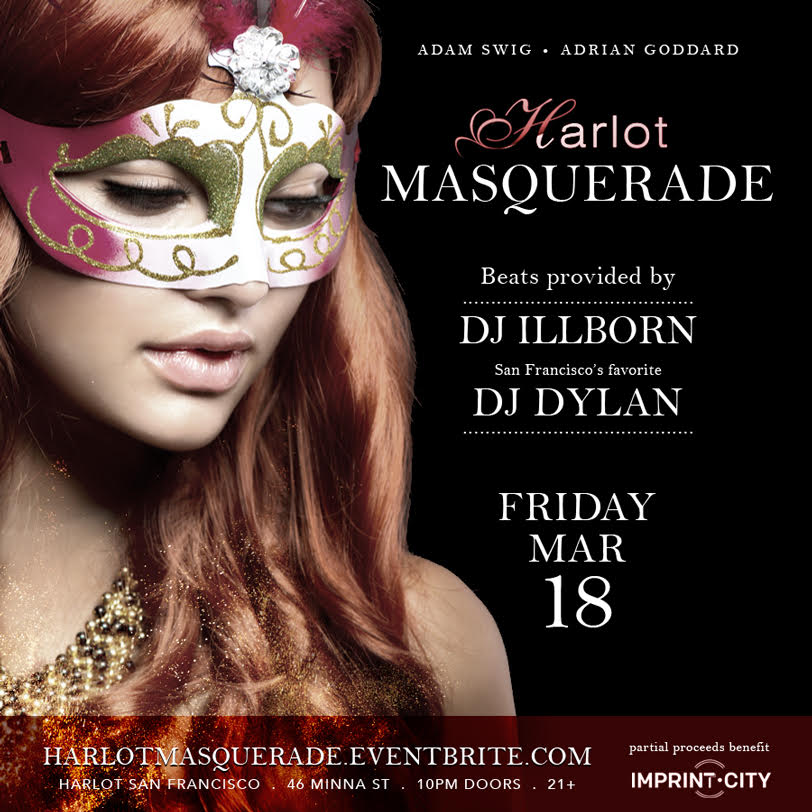 TICKETS AVAILABLE AT THE DOOR, PLEASE BRING CASH.


Adam Swig and Adrian Goddard (Jaffe Events) present The Harlot Masquerade.
---
Adam and Adrian TAKEOVER Harlot for one night only, their first collaboration since the Sold Out "Hanukkah in Paris" at the Clift. Benefitting Imprint.City, it's Friday Night, so let's dance!

"Ladies and Gentleman only please, not for boys and girls. Presented to you 'Harlot Masquerade', only for the formal. This does not mean tuxes and ties, or your biggest gown. It's Friday night in the city; be happy, get down. If it goes down in the DM, or the dance floor, they won't know its you. It's why you brought that little mask, like we asked you to. There's many things to celebrate like Purim and the spring, when you buy that girl a cocktail, everybody wins."
Featuring DJ DYLAN, and DJ ILLBORN + more.
Friday, March 18th, 2016
10pm
Harlot, 46 Minna St., San Francisco, CA.
---
DJ DYLAN put the V in VIP DJ. He returns to the San Francisco stage after stints DJing the Sydney Australia Yacht Regatta, and the underground Swedish house scene in Europe. His deep house roots blend with uptempo beats creating a fury of movement on the closest dancefloor.
---
DJ ILLBORN is a San Francisco legend. Born and Raised in The City proper, he is no stranger to SF nightlife, Dubs games, and Bay vibes. His mashups of all genres will please the unpleasable. Enhanced with Hennessey or Don Julio 1942, the sound of DJ Illborn is sick!!!
---
Partial proceeds benefit Imprint.City, a San Francisco non-profit organization with a mission to cultivate urban art in order to vitalize community. Imprint.City's programs are dedicated to advancing art, culture and community development in urban areas while expanding professional and artistic development opportunities for urban artists. These programs will feature Art Creation, Community Events and Artist Development.
www.imprint.city
---