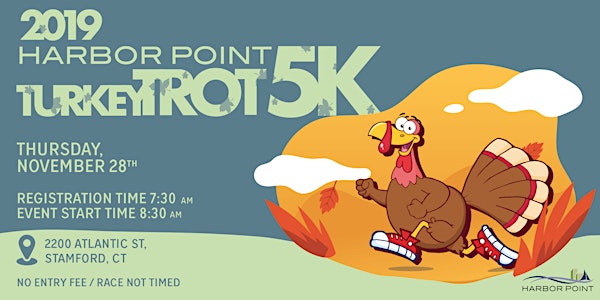 Harbor Point 9th Annual Turkey Trot 5K
When and where
Location
The Point Cafe (Next to Bareburger) 2200 Atlantic Street Stamford, CT 06902
Description
Join the 9th annual 5K Turkey Trot through Harbor Point from 8:30 am – 9:30 am on Thursday, November 28th in celebration of Thanksgiving Day. Complimentary registration begins at 7:30am at 2200 Atlantic Street.
Pre-race bib pickup and registration @ Exhale (150 Washington Blvd.) on Tuesday, November 26th & Wednesday, November 27th (12:00pm - 8:00pm)
Complimentary parking is available in the 2200 Atlantic and 100 Washington Boulevard Parking Garages.
No entry fee/race not timed!
2019 5K Turkey Trot Route – Thursday, November 28th 8:30am
1. START at Harbor Point Road by the square
2. Exit onto Harbor Point Road going straight to corner of SOTW
3. Take a left onto Pacific Street
4. Right onto Dyke Lane
5. Take right onto Bateman Way
6. Quick right into Harbor Point Boardwalk follow along the water to end
7. Down the stairs onto Atlantic Street going straight thru
4. Take a right onto Walter Wheeler Drive straight thru to East Walnut Street
5. Take a right onto Elmcroft Road
6. Left into Kosciusko Park and following left all along the water
7. Exit the park straight up to Dyke Lane
8. Take a right onto Pacific Street
9. Left Walter Wheeler Drive
10. Left onto Washington Blvd
11. Right onto Washington Blvd
12. Left onto Harbor Point Road (corner of Fortina's)
13. RACE ENDS IN HP SQUARE