As part of our Annual Celebration series, join us for Harambee, a live, outdoor community event featuring youth art & performances.
About this event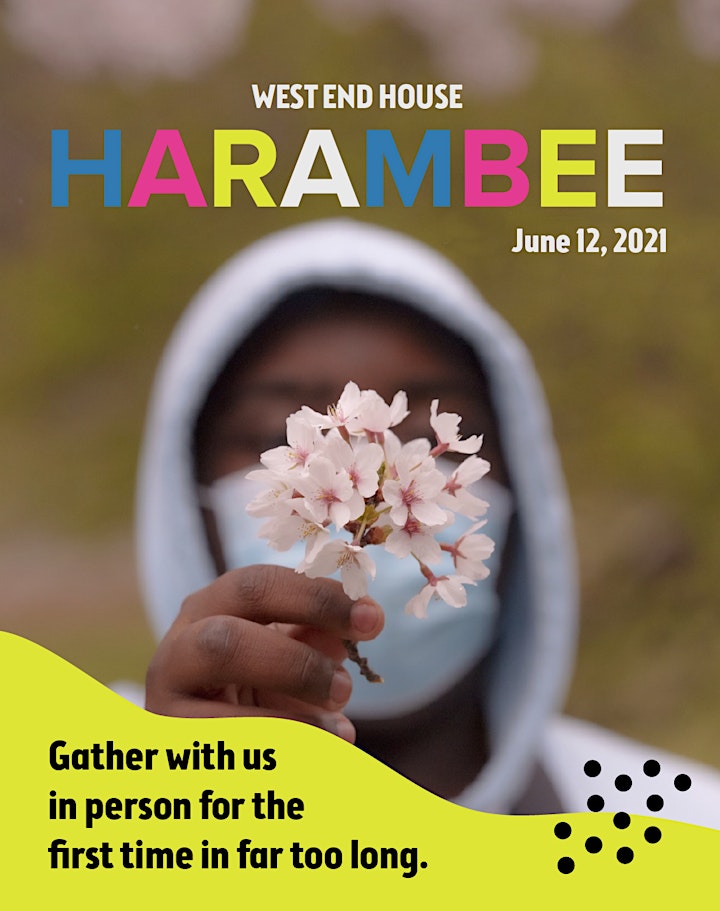 Join us in our beautiful outdoor space overlooking Ringer Park for a live and in-person way to connect with our West End House community.
Throughout the day, guests will enjoy a festive atmosphere with a live DJ while viewing an outdoor art gallery featuring work from our youth and alumni. Enjoy hourly music performances of all styles by members and supporters of the West End House community. 
Reserve your free tickets now!
To keep everyone safe, we are limiting the number of guests on-site at one time so be sure to go to the Reserve Tickets page to sign up for your time slot. 
Event Schedule
subject to change
11:30 - Let's Dance! An explosion of high energy movement in partnership with OrigiNation and their West End House artist in residence Shaumba Yandje Dibinga
12:30 - Kristalis- Latin Fusion Flutist. Performing a set of Latin Caribbean music with a contemporary twist.
1:30 - Showcase of Contemporary Music and Dance including original choreography and music compositions.
2:30 - Emylee Herring, a local singer/songwriter will perform a mix of original songs and alternative pop covers.
3:30 - Boston's beloved and nationally acclaimed dance/funk band, Ripe
4:30 – Just Say It! Spoken Word Extravaganza with youth artists led by accomplished poet, Unique Coren
5:30 - Senior Band Farewell Performance! A dynamic performance of rock and pop tunes from our graduating seniors.
As a bonus, guests will enjoy afternoon live sets from two of Greater Boston's premier DJs, including the 2019 Boston Music Awards DJ of the Year, Real P and multi-hyphenate creative KNSZWRTH.
Artists in Residence
Our Artist in Residence program will be on display at Harambee. Come see the works of our youth in partnership with the following visual artists:
Artist: Thaddeus Miles / Project: Photography through a Social Justice Lens
Artist: Alvin Acoma Colon / Project: Mural Art as Collective Expression
Artist: Kevin Lopez / Project: Comic Illustrations
Annual Celebration Week 2021
Harambee is part of our Annual Celebration series which will culminate with a live and interactive Zoom event on Thursday, June 17th at 7pm hosted by CNN's John Berman and West End House Alumnus Oscar Torres. Learn more about the Annual Celebration