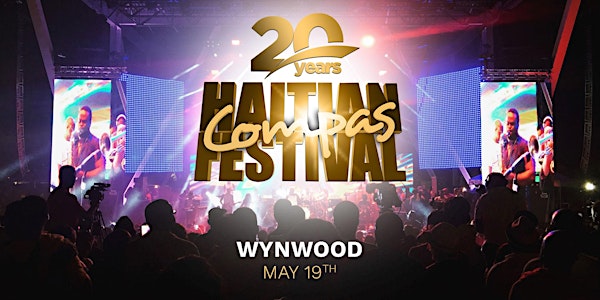 Haitian Compas Festival 2018 - The Official HCF
When and where
Location
MANA Wynwood 318 NW 23rd ST Miami, FL 33127
Description
Come celebrate 20 years of The Haitian Compas Festival! Our Kickoff parties at Cafe Iguana Pines & Mana Wynwood let you start your partying early. Purchase your tickets so you can get up close & personal to your favorite artists performing LIVE in intimate spaces before the main event on Saturday, May 19, 2018.

We are now in Wynwood for a fun-filled, family-friendly day of music, food, arts, crafts, and culture. Part of the top ten outdoor festivals in the United States, the Haitian Compas Festival is a staple in the Haitian Community as well as a public display of affection for our industry pioneers. Celebrating 20 years of music, 20 years of success, 20 years of culture.... are you ready?!?!?!

The main event: 2018's Haitian Compas Festival will have your favorite top Haitian bands and artists on one stage. VIP tickets include a free drink!

The Talent Lineup:
Admirat T
Harmonik
Tabou Combo
Djakout #1
Nu Look
Kreyol La
VayB
Disip
Septen
T-Vice
Kai
Gabel
Enposib
Rutshelle
Ada
JPerry
DJ FMA
Tony Mix
Power Mix
…and many more surprises!

Follow us on Instagram @HaitianCompasFestival and on Facebook @HaitianCompasFest
Bring your Haitian Flags and celebrate Haitian Flag Day the right way!