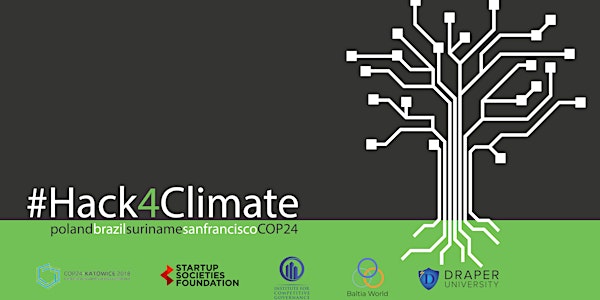 #Hack4Climate Global Hackathon SF 2018
When and where
Location
NODE SF 1011 Kearny St. San Francisco, CA 94133
Description
Hack4Climate is inviting you to a global hackathon for climate change solutions!
The hackathon is decentralized (meaning you work from anywhere in the world) but you will have to physically present your solutions in the Future Cities & Societies Event on December 13 at NODE SF (1011 Kearny St., San Francisco, CA).
The best solutions will be shared in the United Nations Climate Conference (UN COP24) in Katowice Poland and will receive global attention.
Read about the challenge areas below.

#Hack4Climate will invite selected solutions to their funding and acceleration program.
Draper University is offering two $2000 value scholarships to the best solutions! Join the program and build your solutions with the help of Tim Draper!
This year, the engagement areas are:
1. Distributed Renewable Energy (production, storage, grid/exchange)
2. Sustainable Transportation (mobility & logistics, integr./shared)
3. Sustainable Land Use (agriculture & forestry)
4. Sustainable Materials & Products ('supply chains', circular economy)
5. Smart Buildings, Cities/Infrastructure (efficient, integrated systems)
6. ICT & Sustainable Finance (enabling, scaling – Green Bonds)
Bonus points for all teams who will incorporate:
1. ClimateLedger.io (distributed solution for NDCs, top-down & bottom-up emission accounting)
2. ClimateDividend (tax/dividend carbon pricing, fully transparent)
3. H4C Token Model (from ID, rights to co-investment & governance)
Program:

December 11 10.00am - Hack Online Opening Sessions are published. Hack begins!
December 13 10.00am - Hack presentation due. (Submission details will be shared later)
December 13 5.00pm - Be at the NODE SF, ready to present your solution in under 10 minutes
December 14 8.00am - The best solutions will be annouced and their solutions will be shared at UN COP24
Last year Hack4Climate invited many entrepreneurs, climate experts, blockchain hackers, and other individuals knowledgeable in climate change to develop solutions and present them in the United Nation Climate Conference in Bonn, Germany. The results were astonishing! So astonishing that now Hack4Climate is growing into a full fledged innovation program for exponential #ClimateAction!
Read more about #Hack4Climate at https://hack4climate.org