Gullah/Geechee Nation International Music & Movement Festival™ 2018
Description
ALL TICKETS MUST NOW BE PURCHASED AT THE DOOR
IN CASH
AT THE CHARLESTON MUSIC HALL ON SATURDAY!!!
DOORS OPEN AT 11:45 AM.
VIP PASSES ARE SOLD OUT!!!!


TENKI TENKI FA HUNNUH SUPPORT!


**************************************************************


Jayn we fa de 13th Annual
Gullah/Geechee Nation International Music & Movement Festival™
August 3-5, 2018
Charleston, SC in the Gullah/Geechee Nation
Friday
• Gullah/Geechee Tours on Your Own
• VIP Welcoming Reception
Saturday
Charleston Music Hall Noon to 6 pm
• Gullah/Geechee craft, musical, dramatic, and storytelling presentations by native Gullah/Geechee artists including the sweetgrass artistry of Anastatia Ketchen and Gregory Grant, Wona Womalan African Drumming and Dance Troupe, the cast of "Gullah/Geechee Knows Emmanuel," De Gullah Cunneckshun, Bajan poet and dramatic artist, Winston Farrell, and more.
• Meet and greet luncheon by Chef Benjamin Dennis with featured artist, Quadré Stuckey and Queen Quet, Chieftess of the Gullah/Geechee Nation (www.QueenQuet.com).
Sea Island Sunset VIP Party with a Purpose Cruise
This closing VIP party will take place on a private charter cruise on the Charleston Harbor.
Sunday
• Worship with local congregations including at Emanuel AME.
• Closing drumming ceremony and community reception at the Children's Museum of the Lowcountry at 2 pm.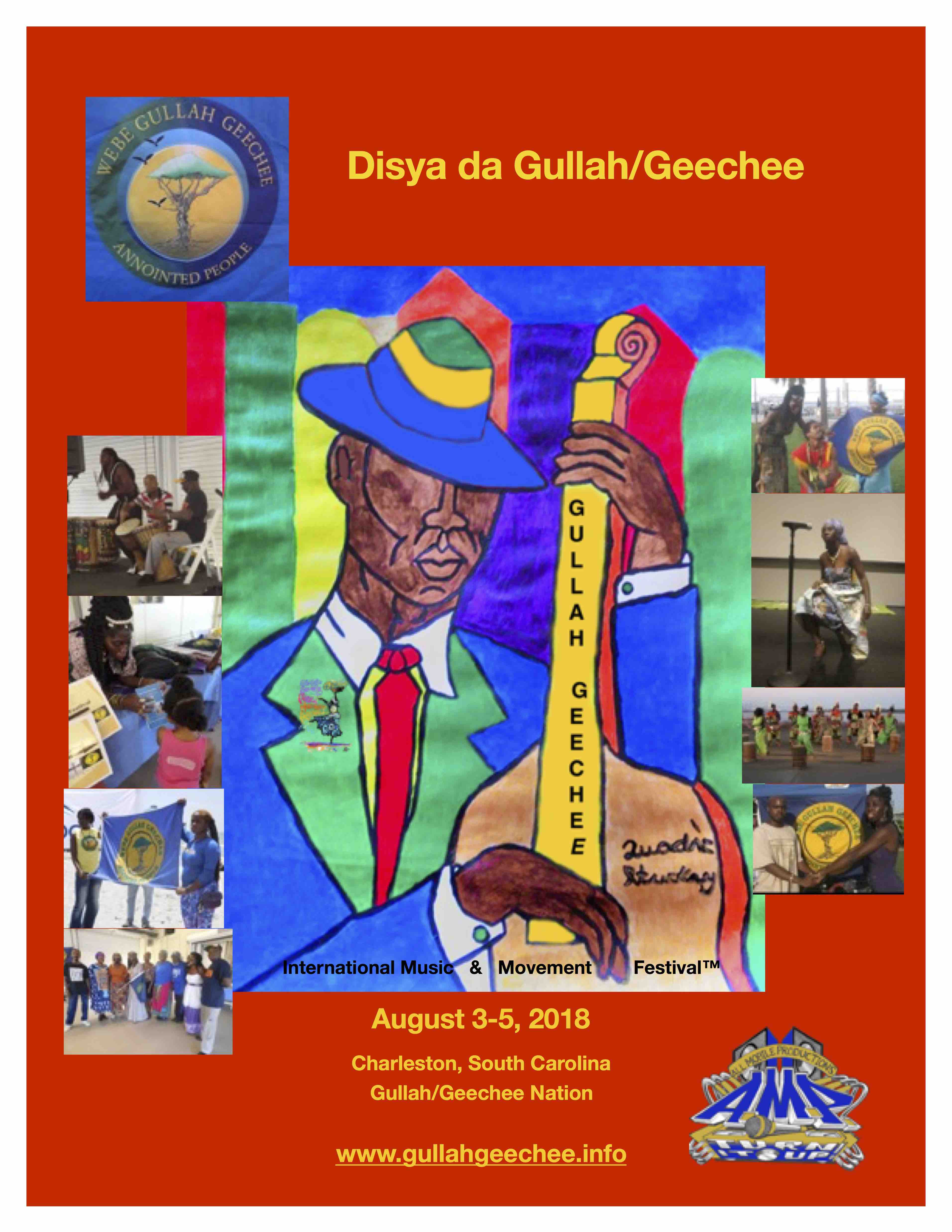 Email GullGeeCo@aol.com for group rates for 10 or more people.
All rates will be higher at the door. VIP passes are only available online in advance.


If you would rather make reservations by telephone, call 800-HAMPTON or 843-723-4000. Give the reservationist the group code GGN so you will receive the festival discount.
You can then walk out of the doors of your hotel right down the block to the Charleston Music Hall for the main event!
See hunnuh een Chucktown!
Disya sponsa by GAWD
• Medical University of South Carolina Department of Public Health
• Audubon South Carolina