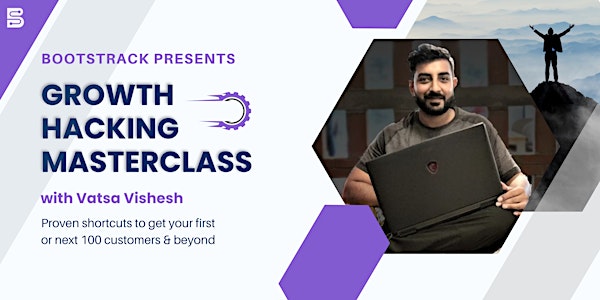 Multiple dates
Growth Hacking Workshop
Featuring Growth Hacking frameworks applied by the FASTEST GROWING STARTUPS in the world to get your first or next 100 customers and beyond.
Date and time
December 22, 2022 · 7pm - December 21 · 8pm PST
About this event
Honestly… if you're still not using automation in 2023, you're missing out BIG TIME! 👨‍💻
Why give up on an opportunity to speed up your business process + increase productivity with the least amount of effort? 😲
Well, it's time to pull yourself out from under the rock and adapt to smarter procedures 😎
Who wouldn't want to automate their tasks + distribute your focus to other key projects?
We know… you might be thinking what's the huge deal?
Well for starters, you have no idea how impactful this masterclass is! 🤯
This Masterclass REVEALS:
✅ Direct Sales Funnel Hack for SAAS and Digital Products
✅ Framework to Automate Recruitment at Scale
✅ Coaching Blueprint Hack for High Ticket Offers
✅ Automated Appointment Booking & Lead Generation System
✅ Community Growth Automation Framework
✅ Social Media Automation using RSS Feed Hack
✅ Automated Webinar Hack
And this is just the TIP OF THE ICEBERG 🧊
You'll get access to REAL & PROVEN frameworks applied by the FASTEST GROWING STARTUPS in the world to take your traction to the next level!
GET EXPOSED to:
✔️ The powerful fundamentals of Growth Hacking
✔️ Proven tactics leveraged by unicorns like AirBnb & Dropbox
✔️ How to build unique growth frameworks for your business
✔️ Specific tactics to grow your list to over 10,000 subscribers.
✔️ 10 battle-tested Growth Hacks to get your first or next 100 customers and beyond..
+ 1 surprise BONUS that you will LOVE! 🎁
All you have to do is join in with your PC or laptop and participate in this interactive workshop.
You DO NOT want to miss out on these HUGE Takeaways!
It's FREE [FOR A LIMITED TIME] ⏰
Duration: 50 mins
And here's the man to show you how...
7 FIGURE GROWTH HACKER
VATSA VISHESH
- Founder of BOOTSTRACK
- CEO @ STANDOUT DIGITAL
- Author: WTF is all the Hype about the NFTs
- Raised $1M in Seed Capital
- BOOTSTRAPPED SAAS to over 6 Figures
- Incubated by Antler
- Serial Entrepreneur & Start-up Advisor
- Ex-Wall Street, New York
- Corporate Trainer @ Aventis School of Management, Singapore
A serial entrepreneur and hustler in the online business space, with extensive international experience in working with start-ups across New York, Paris, Singapore, Mumbai & Bangalore, a deep understanding of diverse cultural and business practices, strong analytical skills and a background in the digital space.
Bootstrapping a SAAS business to over 7-figures all the way and never once receiving any sort of outside funding, his most recent start up Bootstrack is the Ultimate skills-building and life changing experiential accelerator for aspiring Entrepreneurs, Digital Nomads, Digital Marketers and Creators. Used by the likes of the big brands above and everyone in between.
Now having over 20,000 users and generating over a million online leads, Vatsa has consulted and trained over 1000 corporates and professionals working in companies such as HUL, Microsoft, Dell, Standard Chartered Bank, Amazon, Deutsche Bank, KPMG, Deloitte, Flipkart, Myntra, Swiggy, Carlsberg, Mediacorp & Singapore Tourism Board.
And now he's taken everything he's learned and put it in one of the most value packed workshops we've ever seen!
About the organizer
VP Growth | Product | SEO | No-Code Tech | Automation
- Founder of BOOTSTRACK
- EX-CEO @ STANDOUT DIGITAL
- Author: WTF is all the Hype about the NFTs
- BOOTSTRAPPED SAAS to over 6 Figures
- Incubated by Antler
- Serial Entrepreneur & Start-up Advisor
- Ex-Wall Street, New York
- Corporate Trainer @ Aventis School of Management, Singapore
Find Vatsa on LinkedIn