Multiple Dates
GREENWICH VILLAGE COMEDY CLUB - ALL STAR COMEDY DOWNTOWN NYC Discount ticke...
Description
$15-30 at the door
$5 discount tickets for Sunday-Thursday 9:30 shows here via EventBrite
Purchase discount ticket/admission voucher for the date you wish to attend, arrive at least 30-45 minute before showtime. Shows will sell out and late guests are not guarenteed a seat. There is a TWO drink minimum per guest.
Greenwich Village Comedy Club presents a lineup full of Top Headliners. These are the best comedians from New York City with special guests from all across the country. You've seen them on MTV, HBO, The Tonight Show, Comedy Central, The Daily Show, Last Comic Standing and more!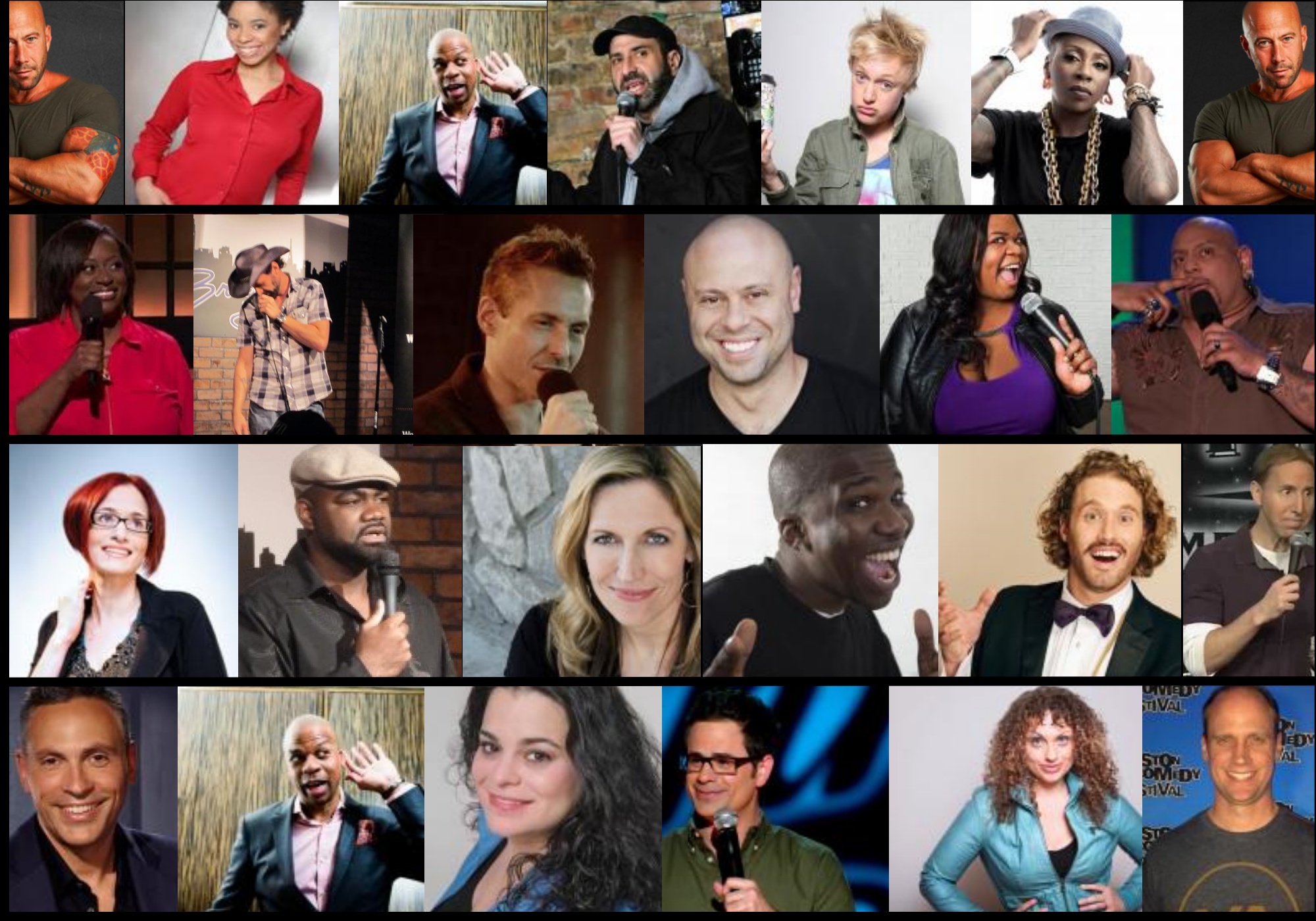 WEEKLY SCHEDULE
Fridays 9:45, 11:45
Saturdays 8:30, 10:30, 12:30a
Sundays 9:45
Mondays 9:45
Tuesdays 9:45
Wednesdays 9:45
Thursdays 9:45


Regularly Appearing...
Yannis Pappas
Yannis Pappas is a stand-up comedian. His Album "Let Me Be Yannis" was awarded Album of the Year for 2016 by SiriusXM Comedy. Yannis' Half Hour Comedy Central Special aired in June of 2014 and is available on Amazon, iTunes, ComedyCentral.com and whenever Comedy Central re-runs it. In 2015, he was the host of the comedy sports show, Webby nominee and Media Synopisis Award winner for "Best Sports Digital Series", AOL's 2 Point Lead. Before that, he was the Co-Anchor of Fusion Live, a live, primetime, one-hour news magazine program which focused on current events, pop culture and satire. Fusion TV network launched in September 2013 as a joint venture of ABC and Univision. Yannis was also the co-host of MSG's sports fan show, The Bracket. He has also been featured on AXS TV, TruTV, VH1 and Good Morning America. He was the first comedian to ever do stand up on the New Tonight Show with Jimmy Fallon–It was a test show and didn't air, but that's kind of a cool thing. He is known for his popular characters Mr. Panos and Maurica. All his comedy shorts with Ditch Films can be found on YouTube. Go watch them, they are there.
Russ Meneve
Russ Meneve is an actor and writer, known for Comedy Underground with Dave Attell, Detective Trousers in the Beat Goes On, and Comedy Central Presents
Costaki Econoppulous
Costaki tours clubs and Colleges throughout the country...You can also see him on his own Showtime half hour...
Aaron Berg
Aaron Berg made his Comedy Central debut on THIS IS NOT HAPPENING in 2016 and has made two appearances on AXS TV's LIVE AT GOTHAM as well as an appearance on BIG JAY OAKERSON'S "WYFD?!?" on Seeso. He will also be appearing in Comedy Central's Roast Battle Season 2 in 2017. Aaron is half of the weekly show "IN HOT WATER" which can only be viewed on COMPOUNDMEDIA.COM . He is also an author and has two books out currently. Mr Manners and American Etiquette. His two albums are available on iTunes and can be heard on RAW DOG on SIRIUS XM, "COMEDY COLTRANE" and "UNSCRIPTED." Aaron is the host of FRANTIC MONDAYS at the STAND NYC can be seen every night doing stand-up in NYC. Also, Aaron was one of the stars of the groundbreaking TV show 24 HOUR RENTAL airing on HULU.
Mike Britt
Mike Britt is a Brooklyn, NY born stand-up comedian. He got his start at the Uptown Comedy Club in Harlem. Since then, He has appeared on Comedy Central Presents, BET's Comicview, VH1's Best Week Ever, and The Bad Boys of Comedy. In 2015, he's now known as the "singer" of the Unbreakable Kimmy Schmidt theme song. Mike can also be seen in Season one of Netflix's Luke Cage.
Vanessa Hollingshead
Vanessa Hollingshead Comic/Actor She was in Woody Allen's Cafe Society. 2017, Gotham Season 4 (Evil Nurse.) She will be filming her fourth stand-up special in Atlanta, Georgia. She has had a special on Comedy Central, has performed Nationally and Internationally for Comedy Central . She was listed on Oxygen's TV Special "Fifty of the Funniest women alive." Vanessa performed at The Montreal Comedy Festival four times. She performed for the troops in the Middle East for a month, and England last year. She has opened for Bill Maher (City Center), Richard Pryor, Chris Rock, Jim Norton, amongst others. Vanessa has worked with Jerry Seinfeld, Dane Cook, George Carlin and Ray Romano, and recently Brad Garett at the MGM.
Dustin Chafin
Since Chafin first grasped the microphone, he has been very busy. He has been featured in the New York Underground Comedy Festival Hosted The Bill Hicks Tribute show at the Laugh Factory. Dustin has also been featured in the Chicago and Las Vegas comedy festivals where he won "Best of Fest". He headlines regularly at premiere New York City venues such as Caroline's on Broadway, Comic Strip Live, Broadway Comedy Club , Dangerfields and Standup NY. He is the creator of "Uncensored Comedy," a critically acclaimed show that runs weekends in New York City and a nationwide tour and is now the staple of the award wining Greenwich Village Comedy Club. Chafin has toured with the USO to perform in Korea, Japan, Africa and Iraq. He has been a staff writer for the Sci-Fi Channel, and contributing writer for many television shows. Dustin is a regular on Sirius and XM Satellite Radio - he has been featured on Jim Breuer Unleashed, Court TV Radio, Blue Collar Radio, Howard Stern radio, Howard Demand, Insight Channel and Raw Dog . He was also featured on ABC's special coverage of the New York Comedy Festival. Dustin brought down the house on Showtime's White Boyz in the Hood. Dustin has also been a writer, producer for United Stations Radio and Iheart radio. He was featured in an episode of Crashing an HBO new series created by Judd Apatow.
Teddy Smith
Comedian Teddy Smith started his comedy career from a dream he had. He was lost, didn't know where to go in his career or his life. That night he asked himself, "What am I supposed to do?" That very same night he had a dream he was on stage performing in front of a sold out crowd. He knew he couldn't sing, but he could make people laugh. A week later he signed up for an open mic, and a few months later won the Washington, DC, Comedy Competition. After two years of plugging away at it, Teddy felt it was time he set his sights on his next challenge: New York City, "The City That Never Sleeps". Teddy learned fast that story was a falsehood. Whoever came up with that one obviously never rode the NYC subways at four in the morning, because people were sleeping all the time. Maybe they missed the meeting. Teddy Smith took his talents to the world famous Apollo Theatre and got a standing ovation. That lead to a big gig at the Tropicana Casino in Atlantic City opening for the Isley Brothers and Teddy Pendergrass. Then he traveled overseas to do a television show called the Comedy Factor and a month tour in Amsterdam and Rotterdam. Teddy has done the famous Aspen Comedy Festival were he was named among the "Comics to Look Out For in the Future". Teddy tours all up and down the east coast, headlining the Paramount Theater in Huntington Long Island, Theater Three in Port Jefferson, The Smithtown Performing Art Theater. He appeared in the movie Umbrellas Kill, and has appeared on Live At Gotham, Comedy Central, Comic View, Showtime, Jay Leno's Tonight Show Website, The Gordon Elliot Show with Jackie Mason. Teddy covers topics from divorce, family, kids, race and social issues. Teddy Smith currently lives in New York City.
Laurie Kilmartin
Laurie Kilmartin was a Top Ten finalist in season 7 of NBC's Last Comic Standing. She has been seen on Jimmy Kimmel Live, Comedy Central and Showtime, plus appeared as a talking head on The Rachel Maddow Show, Fox 'n Friends, Countdown with Keith Olbermann, VH1's Best Week Ever and Oprah. She is currently a writer on CONAN at TBS and has performed at the Montreal, Aspen and Edinburgh comedy Festivals. Her CD, Five Minutes to Myself, was named by Punchline Magazine as one of the top ten comedy CDs of 2009.
Dean Edwards
With a dynamic energy and an almost tangible onstage presence, Dean Edwards remains one of the comedy worlds most in demand performers across the globe. Armed with a razor sharp wit, an arsenal of characters and spot on impressions, it's no wonder that he's become such a favorite, garnering media attention as well as a legion of fans. As one of the stars of MTV2's hit show, GUY CODE, Dean has helped the show become the networks most successful show in its history. He also just completed hosting TV One's clip show, VIDIOTS and serves as a correspondent on BET's new program, DON'T SLEEP, hosted by TJ Holmes. A talented Actor/Comedian, Dean Edwards has been making his mark in comedy following two successful seasons as a cast member on "SATURDAY NIGHT LIVE With such memorable impressions as Don Cheadle, Michael Jackson and Denzel Washington, as well as such original characters as "Man in Elevator" and "Cop#2", Dean always pushed himself to the limits of creativity and exhaustion. Always the multi-tasker, Dean found the momentum to juggle his SNL career, his numerous standup appearances and multiple television appearances. Born in the Bronx and raised throughout New York, Dean's travels made it easy for him to communicate with all walks of life. After dividing his college career between classes and a 6-year term in the U.S. Army Reserves, Dean ultimately made the choice to devote his career to comedy. Although his fellow soldiers loved his impressions of their drill sergeant, Dean spent many an afternoon doing push-ups to pay for his comedic talent. That talent paid off and Dean found his career after participating in a college talent show. Armed with a degree in communications, Dean became an in-demand comic, and landed his first big break on Russell Simmons' "DEF COMEDY JAM." Though the show is renown for it's blue humor, Dean found a way to break the traditional mold with his mainstream appeal. Subsequently, he was a featured comedian on "SHOWTIME AT THE APOLLO" a few years later. Dean followed his TV appearances by starring in numerous television commercials, and also worked with Spike Lee on the hit feature film "THE ORIGINAL KINGS OF COMEDY". Edwards has since earned a reputation as a headlining favorite at comedy clubs and colleges across the country. An international sensation, Dean has attended Montreal's Just For Laughs Comedy Festival twice and was chosen to perform at the Jozi, Cape Town and Durban Comedy Festival's in Johannesburg, Cape Town, and Durban South Africa, as well as Saudi Arabia in late, 2009. More recently, Dean completed a tour of the Middle East, performing in front of more than 10,000 comedy fans: beginning in Cairo, Egypt and ending in Kuwait. Dean has made several late night appearances, including "The Late Show with Craig Ferguson" and "Last Call with Carson Daly." He is also a favorite and frequent guest on Byron Allen's "Comic Unleashed," and is frequently providing comedic commentary on various VH1 highlight shows. Director Malcolm Lee also chose Dean to finish Bernie Mac's voice/ADR work on "Soul Men" after the comedian's untimely death. He spent 2 years workshopping and creating the character of Donkey, leading up to Dreamworks' SHREK THE MUSICAL on Broadway. Jeffrey Katzenberg was so impressed by Dean's vocal talents that he invited Dean to step into Eddie Murphy's shoes to reprise the role of Donkey in Dreamworks' new Halloween classic, "SCARED SHREKLESS". Some of his feature credits include "SPIDERMAN 3", "TONY –N- TINA'S WEDDING" and "UNIVERSAL REMOTE". Dean's first comedy CD, "REAL TALK WITH FAKE PEOPLE, Volume 1" debuted at the top of Itunes comedy charts in 2009. As he continues to ascend in the ranks of entertainment, Dean next plans to record a one hour comedy special in the near future.
Jon Rineman
Jon Rineman is a comedian and writer based in New York City who has appeared on "THE TONIGHT SHOW STARRING JIMMY FALLON," "LATE NIGHT WITH JIMMY FALLON," "COMICS UNLEASHED" and "GOTHAM COMEDY LIVE." He has also been heard on Sirius XM Radio. Since 2009, he has been a staff writer for "LATE NIGHT WITH JIMMY FALLON" and "THE TONIGHT SHOW STARRING JIMMY FALLON," earning two Emmy-nominations. He has also written for Seth Meyers at the 2011 White House Correspondents Dinner and 2011 ESPY Awards. He performs regularly at Broadway Comedy Club and the Comedy Cellar in New York City.
And 100s more...


Al Martin's name is synonymous with comedy in New York City, and is responsible for launching the careers of many top comedians working today. Martin's first venture in the comedy club business was in 1988 when he established the New York Comedy Club out of a need to help and showcase talented comedians. An accomplished comedian himself, Al was a National Headliner with numerous television credits such as The Joan Rivers Show, Geraldo and Evening At The Improv. Al was always more than just a comedian; he was an activist for the comedy community serving as Vice President of the Professional Comedians Association, and was instrumental in the organization dedicated to bringing health insurance and improving working conditions for comics. Although performing was a love for Martin he found his niche as a comedy club owner. He soon found himself helping his fellow comedians that he had once worked beside. Sarah Silverman, Lisa Lampanelli, Brett Butler, Tracy Morgan and Wanda Sykes are just a few comedians who have graced his stages over the years. New York Comedy Club became the first comedy club with two showrooms in 1997. Al was one of the first club owners to embrace diversity in the comedy world by establishing the first Latino Comedy Night at New York Comedy Club. He's also facilitated and welcomed to his stage shows featuring gay, urban and Asian communities. In 2000 Martin opened New York Comedy Club in Boca Raton, which he ran successfully until late 2006. With the success of two clubs Al decided to expand his brand and in 2003 opened Broadway Comedy Club, located in the heart of Times Square. Martin again took a risk in opening Broadway Comedy, the only bi- level entertainment complex with three showrooms in NYC, serving over 600 comedy lovers from around the world nightly. In 2005 he partnered with Barry Katz, executive producer of NBC's Last Comic Standing to run Boston Comedy Club, giving Martin the bragging rights to being the first person to run three comedy clubs in New York City. In the Summer of 2012 Martin expanded his comedy ventures into Greenwich Village, in New York City with the opening of Greenwich Village Comedy Club, from day one the club has been filled every night with a lively downtown crowd and top comedians making them laugh! Martin's clubs attract comedy fans from around the world including some of the biggest celebrities from Jay-Z & Beyonce, Andre Aggasi, Jimmy Fallon, Montel Williams, and Harry Connick Jr. On stage or behind the scenes, Al Martin will go down in history as the King of New York Comedy. Martin is a brilliant thinker and innovator of his time, and has made New York City the World's Capital of Comedy.