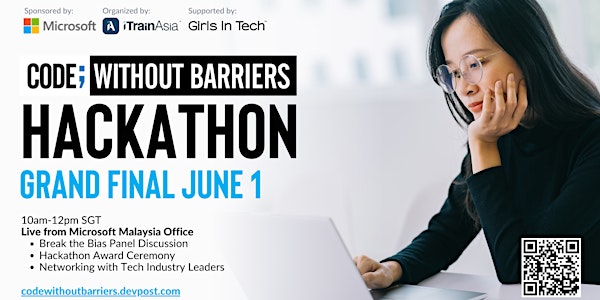 Grand Final - Microsoft Code; Without Barriers Hackathon
Hackathon Award Ceremony Livestreamed from Microsoft Malaysia Office June 1st, 10am to 12pm SGT
About this event
Livestreamed Hybrid Event from Microsoft Malaysia Office
Break the Bias Panel Discussion
Hackathon Award Ceremony
Networking with Tech Industry Leaders
50 registrants from Malaysia with Azure certification will be selected to join for the in-person event hosted at Microsoft Malaysia office based, so don't miss your chance to network with tech industry leaders.
All hackathon participants are invited to the event, but only best problem statement solution candidates will be invited to an exclusive interview session during the event that will be held in person at Microsoft Malaysia office and livestreamed for attendees to join from across APAC.
This was not just another hackathon. All women were invited to showcase their Data and AI skills to hack and advance in their career.
It's your turn to pick the Popular Choice award winner! Browse 'Microsoft Presents Code; Without Barriers Hackathon' submission gallery, click on your favorite, and vote. Be sure to spread the word via your social networks, too!
Technology continues to have a growing impact on every person and organization. Yet gender and minority gaps continue to exist in the tech industry, limiting the potential for more inclusive innovations. To drive a change, Microsoft in collaboration with iTrain Asia and Girls in Tech APAC is launching its Code; Without Barriers Hackathon program to foster more diversity and inclusion in the developer community and beyond. A month long Hackathon for women in Asia Pacific region that will upskill them and ultimately gain hands-on experience solving real-life problems that matter globally. The Hackathon is supported by Code; Without Barriers partner companies. The program provides a platform to enable female developers, coders, and other technical talent to contribute towards inclusive economic growth, encourage innovation and better reflect the societal makeup of their region. This is an individual hackathon and no teams are required.
More details on the hackathon via codewithoutbarriers.devpost.com