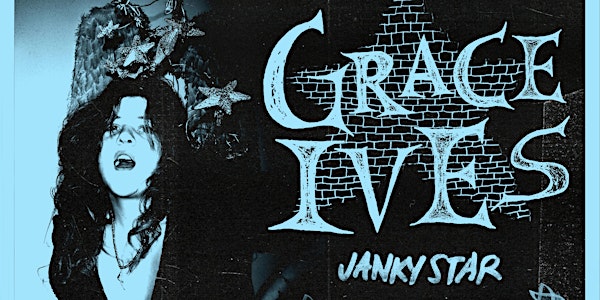 Location
DC9 Nightclub
1940 9th St NW
Washington, DC 20001
About this event
Proof of Vaccination REQUIRED
DC9 will require proof of vaccination for entry. Physical card or digital photo will be accepted. Proof of vaccination must match name on photo ID and will be checked at the door.
You can find more information HERE.
Things change quickly and we are all in the same boat trying to navigate and do our best to keep our concerts and communities safe. We appreciate your patience and understanding with our staff as we navigate this together. Thank you for your cooperation & continued support!
This is an ever changing situation and we reserve the right to change these policies at any time.
Grace Ives

Janky Star is the new album from pop-polymath Grace Ives, following 2019's critically acclaimed 2nd. After writing and doing initial production on this collection of songs at home in Brooklyn, Ives teamed up with co-producer Justin Raisen (Yves Tumor, Charli XCX) in Los Angeles to consummate Janky Star's expanded vision. Still only in her mid-twenties, the record sounds like Ives grown up: through the ten sophisti-pop tracks, there's more deliberate space that lends breathing room to her most vulnerable, exposed songwriting yet. Throughout songs that are still full of punchy synths and unconventional rhythms, Ives uses the quiet spaces in between to honestly reflect on her ongoing struggle to find stability and happiness. Touching on sobriety, overdoses, and the desire to escape from the realities of modern life, the record also focuses on the rewards of slowing down, and finally finding a home for herself in the ever-shifting world.

Ives' penchant for poetic musings on specific details and references has always been part of her enchantment, but on Janky Star she finally settles into an image that's entirely her own. "Everyone has a shitty star tattoo/stick n poke, that's never perfect, or is rough around the edges. A beautiful thing to think about is that stars on earth look like blobs but in space really defined structures," she explains. This fully-formed version of herself is the album's guiding light, and sees Ives take confident steps towards deciding her own fate. Both self-possessed and yearning, insular and affecting, Janky Star's effervescent daydreams are ultimately triumphant, where ultimately the very act of surviving can be the biggest achievement of all.