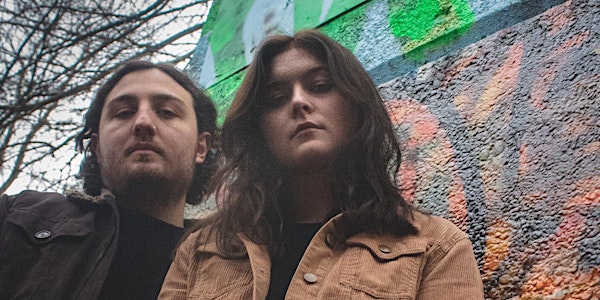 Date and time
Tuesday, June 20 · 8 - 11pm EDT.
Location
DC9 Nightclub 1940 9th St NW Washington, DC 20001
Performers
Headliners
More Performers
About this event
3 hours

ALL AGES

Mobile eTicket
Glosser
FACEBOOK | INSTAGRAM | TWITTER | SPOTIFY | BANDCAMP
GLOSSER's Riley Fanning and Corbin Sheehan's kismetic meeting was born out of a search for meaning within their separate musical endeavors. Both avid artists in their own right, Sheehan was looking to expand his band, and Fanning was hoping to start one. Inspired by the likes of Beach House, Weyes Blood, and Phoebe Bridgers, they wrote songs together the first night they met, and GLOSSER was created in the front room of their house in the D.C. suburbs. Partnered with producer and genre-defying singer/songwriter Bartees Strange, he feels GLOSSER's music emphasizes a "depth that isn't found in other indie bands" and their time spent in his studio, 38 North, resulted in a sound so undeniably enigmatic and effervescent and new.
Sophie Coran
WEBSITE | FACEBOOK | INSTAGRAM | TWITTER | SPOTIFY
Sophie Coran's sonic world is crafted with firm intentionality, effortless poignancy, and imagistic seduction. The genre she feels the most at home in, her signature Noir & B style, is a blend of R&B, jazz, and classical composition, tied together with a ribbon of hyper-sentimentality. Her debut album, S P A C E, details the struggle of unrequited love, and learning to balance the imperative nature of self-worth with desire. Inspired by high-profile artists like Fiona Apple, Nick Hakim, and Amy Winehouse, she pulls contemporary swells from pop music and overlays them with intimate string and piano arrangements. Pair that with her affinity for classic films, vintage landscapes, and the romanticism of Europe, and you have a uniquely visceral experience that only she can so masterfully deliver. She is joined by longtime producer and engineer Michael Cumming of Treacle Mine Recording in Philadelphia, PA, and is backed by her band, Logan Roth (keys), Arjun Dube (drums), Mike Morrongiello (bass) and Rob Pallett (guitar, vocals). Tipped as one of 10 Artists You Should Know from Philadelphia on NPR music, "Singer-songwriter Sophie Coran fancies her aesthetic Noir & B, which is a clever way of packaging an artist who boasts both a faux-fur coat vintage Hollywood look, and a smoky-voiced after-hours lounge sound. Below the surface, though, Coran's songs are complex studies of human connection — between lovers, between parents and their children, between strangers."