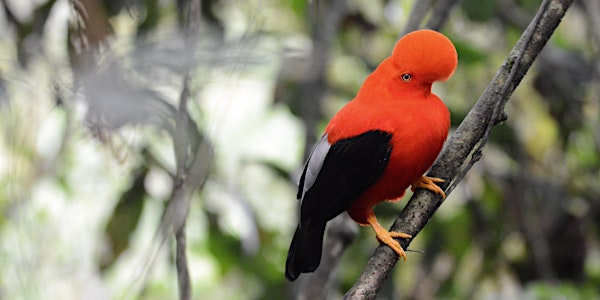 Global Birding online: Colombia
Birding Colombia in 2019 and 2020 with Scott Clark
Date and time
Tuesday, January 12, 2021 · 5 - 7pm PST
About this event
In 2016 treaties were signed ending a decades-long civil war in Colombia. The country then had a long uphill climb to create a new image that welcomed visitors and offered safe travel within its borders. Colombia has had a massive infrastructure rebuilding program, including development of a strong eco-tourism industry.
This month's presenter for Minnesota Global Birders, Scott Clark, will highlight his two trips to Colombia in 2019 and 2020. These trips collectively covered portions of the central and eastern Andes (up to 13,000 ft.), the Magdalena River valley, the Caribbean coast, and the famous "sky island" of Santa Marta. With its amazing biodiversity, this geographically small country claims almost 2,000 bird species, 20% of the world's bird population. Each trip netted around 400 species, and after eliminating duplicates the trip lists totaled around 575 species. Colombia's varied geography affords a remarkably high level of localized speciation, and 45 endemic or near endemics were found, including one of the rarest birds in Colombia.
This presentation will feature birds with an emphasis on endemics, the unique geography of Colombia, the travel companies used, a brief history lesson of Alexander Von Humboldt, and the joys of traveling with other birders for 14 days straight!
Andean Cock-of-the-Rock, photograph by Scott Clark
About the organizer
Gregg Severson, Gordon Andersson, Jason Caddy, Stephen Greenfield