A fabulous fall weekend of old time and bluegrass music jamming, concert, workshops, potluck, dance and more, with musical pals old and new.
About this event
For this-our FOURTH annual Gillbilly Festival, we are calling it 'Lil Billy-better on the budget and higher in flex capacity! Your Gillbilly weekend includes the following: Chili Potluck, Old Time Friday Night Dance and late night jam, Saturday morning "Muggle" workshops*, afternoon jams, "Stillbilly" Open Mic, Saturday night concert with DEL BARBER, more jamming and Sunday Morning Toast and Jam. You are of course always free to explore Fernie trails, coffee shops, scenic downtown and enjoy the beautiful Elk River.
Optional bonus songwriting workshop available (see "Add Ons")
*Muggle Workshop? Got a musical (or other suitable) talent you want to share? Gillbilly participants are key to the success of these workshops! Please let us know and we will add you to our list of one hour Saturday Morning "Muggle" Workshops. oldtypemusic@gmail.com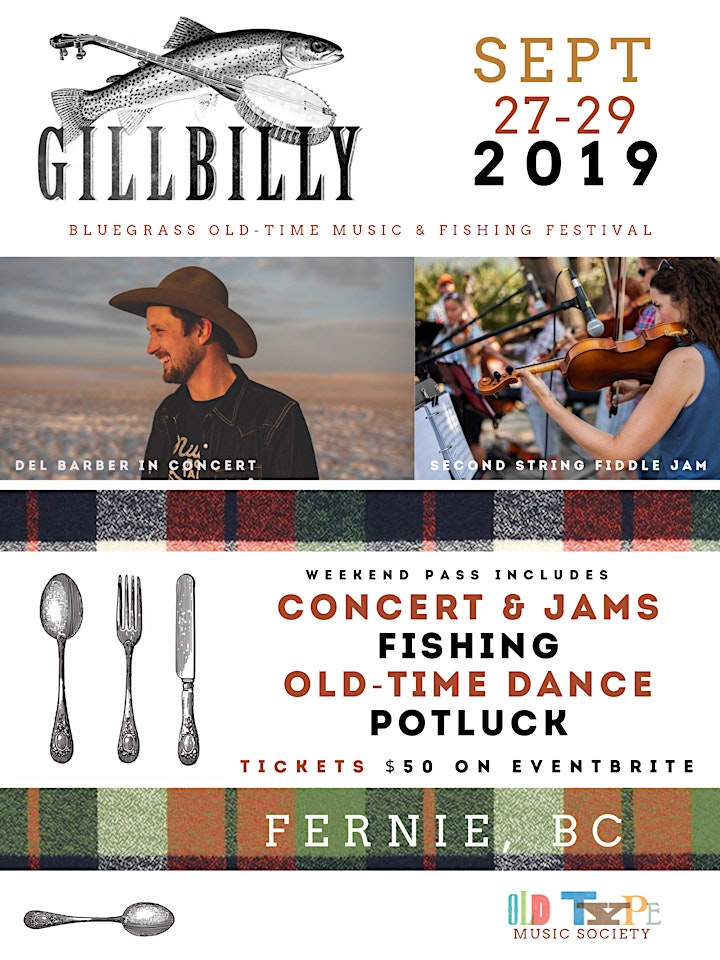 Organizer of Gillbilly 2019
The Old Type Music Society was created to help promote events and opportunities to bring people of all ages together to listen, teach and create old time and bluegrass acoustic music in the Elk Valley. We host old-time dances, workshops and concerts in local halls to keep connection between young and old through the bond of music. Old Type Music Society grew out of in the hearts of a few Elk Valley locals who love to see their community gather for the sake of music, cultural events and a good potluck. Fiddles, Banjos, guitars and Mandolins are standing by...