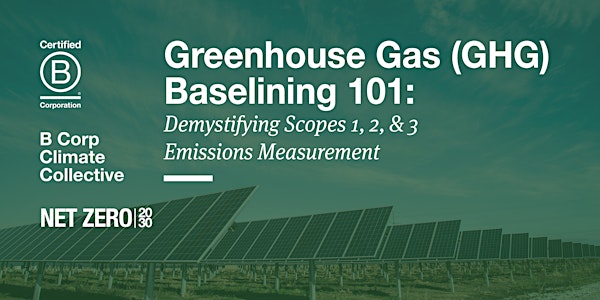 GHG Baselining 101: Demystifying Scope 1, 2 & 3 Emissions Measurement
Join the B Corp Climate Collective to learn more about measuring carbon footprint and Scopes 1, 2, & 3 greenhouse gas (GHG) emissions.
About this event
Registered attendees: please use this Zoom meeting link to join: https://zoom.us/j/93908389476?pwd=aUpzYWQrWHZoV0pvMkxqZDZ4eHJKQT09
Meeting ID: 939 0838 9476 / Passcode: 029733
You can find the full Zoom access details on the Online Event Page
--
Join members of the US & Canada B Corp Climate Collective (BCCC) Climate Action Group's Measure Committee for an interactive webinar where we'll provide an overview of a step-by-step process that a company can take to begin measuring its carbon footprint and greenhouse gas (GHG) emissions. We'll also discuss how and why companies should center their climate action in Climate Justice, and how this work intersects with efforts toward Net Zero.
During the first hour of this webinar the Measure Committee will:
Review why completing a high-level Scope 1, 2 and 3 emissions estimate is valuable for companies of any size.
Provide an overview of our US & Canada B Corp Climate Collective's baseline measurement process and our peer-to-peer coaching program.
Share on-the-ground learnings from B Corps measuring their emissions.
During the final half hour we will have our coaches available for any questions you may have about greenhouse gas analysis.
Who Should Attend?
This event is open to all Certified B Corps, Net Zero 2030 signatories, and BCCC members. The webinar and will be especially valuable to those who are involved in greenhouse gas emissions or carbon footprint measurement for their companies.
Accessing the Webinar
This webinar will be hosted on Zoom meetings and include interactive elements. Once registered, you will be able to see the Zoom meeting access info on the Online Event page of Eventbrite.
Unable to Attend?
If you are interested in the event but unable to attend, feel free to register anyway in order to receive communications regarding the subject matter as well as the event materials and recording after the event. You can also fill out our brief 1-on-1 peer coaching call form and a Measure Committee member will be happy to reach out to you directly to schedule a call to answer your questions.
The BCCC Climate Action Group Measure Committee
Mike McGrory, B Lab
Pancho Gomez, All Good Products
Henkel Smith, Offset Alliance
Aileen Lerch, Allbirds
Pablo Paster, South Pole
Jack Statham, Chandos
Kevin Lee, Dr. Bronner's