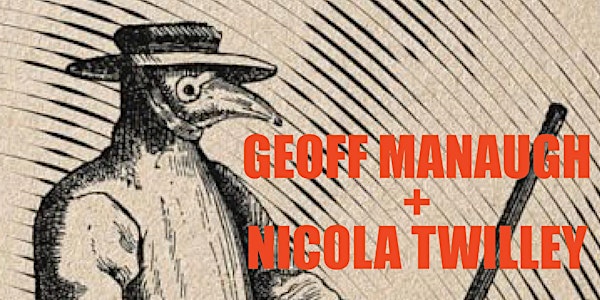 GGA+ ART ALLEY TALKS - GEOFF MANAUGH AND NICOLA TWILLEY BOOK DISCUSSION
GGA+ Art Alley Talks is thrilled to welcome Geoff Manaugh and Nicola Twilley to discuss their acclaimed new book.
When and where
Location
135 W Green St 135 West Green Street Pasadena, CA 91105
About this event
GGA+ ART ALLEY TALKS_02
We are thrilled to welcome Geoff Manaugh and Nicola Twilley on Wednesday 03 November @ 5:30pm to talk about their widely acclaimed new new book "Until Proven Safe: The History and Future of Quarantine". Please join us for this free outdoor event. You can also join via Zoom. Please RSVP (for either in person or Zoom) to zwong@ggarch.com. Hope to see you there!
Recent Acclaim for "Until Proven Safe":
"[Manaugh and Twilley] bring an impressively wide range of interests to bear on a subject that involves not only infectious disease but also―in their ambitious yet seamless narration―politics, agriculture, surveillance and even outer space."
―Jennifer Szalai, The New York Times Book Review
"What makes [Until Proven Safe] compelling, besides [Manaugh and Twilley's] extensive experience as journalists, is the depth of their research coupled with a firm conviction that quarantine, a mighty yet dangerous weapon, must be used 'more wisely in the future' . . . The informality of the authors' engaging prose, bearing few scholarly trappings save for the source notes, more aptly resembles that of an article in the New Yorker . . . This is an exceptionally powerful book."
―A. Roger Ekirch, The Wall Street Journal
"[Nicola Twilley and Geoff Manaugh] make a compelling case that we must continue to refine the use of quarantine, balancing the needs of public health with those of human rights."
―The New Yorker
NICOLA TWILLEY is co-host of the award-winning podcast Gastropod, which looks at food through the lens of history and science, and an award-winning contributor to The New Yorker. She lives in Los Angeles.
GEOFF MANAUGH is the author of the New York Times-bestseller A Burglar's Guide to the City, as well as the architecture and technology website BLDGBLOG. He regularly writes for The New York Times Magazine, The Atlantic, The New Yorker, Wired, and many other publications. He lives in Los Angeles.
ABOUT THE SERIES
The GGA+ Art Alley Talks highlight various thought leaders and issues based in, or specific to, Los Angeles but applicable across the broader region, our State, and even nationally / internationally. From housing to climate change, schools to the public realm, racial injustice to our civic institutions we look to explore and discuss ideas through a multidisciplinary lens that impact the built environment (and the human race). The format is intended to be informal, conversational, and participatory, a dialogue if you will, with the hope that through these conversations we will see the world, and the possibilities within it, a bit differently than we did before.