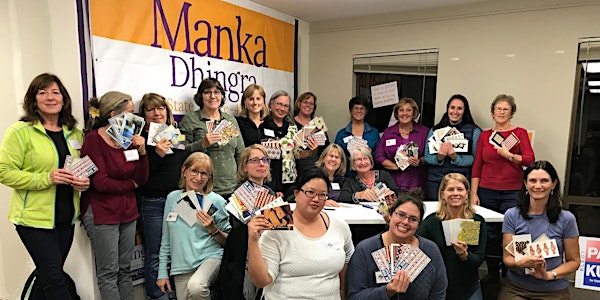 Get Out The Vote for Manka Postcard Event 10-17-17
When and where
Location
Elect Manka HQ 8151 164th Ave NE Redmond, WA
Description
Indivisible Eastsiders! Ballots for the November 7th general election will be in the mail to Voters on October 18th. We have just a few short weeks left to encourage registered Democrats in the 45th Legislative District to mark their ballots for WA State Senate Candidate Manka Dhingra. What can you do to help??? WRITE POSTCARDS!!!
You may have already heard of or participated in the successful handwritten postcard campaign Postcards to Voters. All around the country, people like you have been crafting handwritten messages urging registered Democrats to Get Out the Vote for progressive candidates. It's FUN and it's been well received by voters. After all, who isn't impressed by a beautiful, handwritten postcard??
Please join other like-minded people October 17th 10-noon in Redmond to write postcards for Manka and help secure a DEMOCRATIC SENATE for our great state of Washington. (20 of us had a great time on Oct 11th - picture above)
This event is not organized through Postcards to Voters, but uses the same structure. It is a partnership between Indivisible Eastside and the Elect Manka campaign. Register and the event location will be e-mailed to you two days in advance. Space is limited, so register today. At the event, you will be provided with flag themed postcards, stamps, talking points and sample postcard text as well as addresses of voters. We encourage you to bring colorful pens for making eye-catching and legible postcards. We will have some snacks available, but feel free to bring something to share if you like.
Feel free to forward this link to your friends - each person should register separately as we'll be following up with email.
Let's flip the 45th and WIN back the SENATE!!
Organizers - Louise and Sharon of Indivisible Eastside