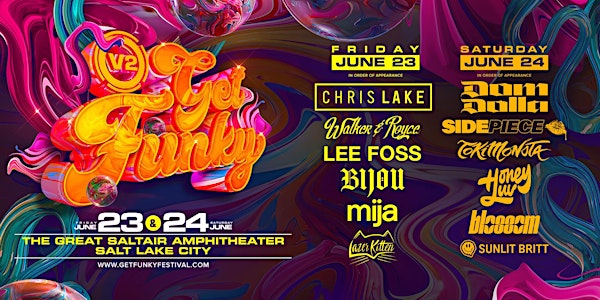 Get Funky 2023
Get Funky returns to Salt Lake City this June! Featuring the biggest names in house music!
Location
The Great Saltair 12408 W Saltair Dr Magna, UT 84101
Performers
Headliners
Chris Lake
Dom Dolla
Walker & Royce
Sidepiece
Lee Foss
TOKiMONSTA
Bijou
HoneyLuv
Mija
Blossom
Lazer Kitten
Sunlit Britt
About this event
1 day 7 hours

Ages 18+

Mobile eTicket
Lineup
FRIDAY: Chris Lake, Walker & Royce, Lee Foss, Bijou, Mija, Lazer Kitten
SATURDAY: Dom Dolla, Sidepiece, Tokimonsta, HoneyLuv, Blossom, Sunlit Britt
Tickets
2-DAY & Single Day GA tickets available now via presale signup code.
Subscribe for text updates HERE to access to future presales.
Shuttles
Official shuttles are on sale now via our partner One N Only. Downtown or Airport Hotel area pickup options available.
2-DAY Wristbands
2-DAY Passes will be exchanged for cloth wristbands. Exchange your pass for a wristband when you arrive at the venue.
Once your ticket is scanned and exchanged for a 2 Day Cloth wristband, the wristband becomes your ticket for entry. Lost wristbands will not be replaced. Please make sure your wristband is on securely before you enter.
No cloth wristbands will be provided for Single Day Passes.
Ticket Transfers
If you wish to change your ticket type, transfers are possible via web browser online in your Eventbrite account. See here for instructions. Please note, refunds are not offered for downgrading ticket types. Cost difference will be charged for upgrades.
How To Update The Name Or Email On Your Tickets
Price Tiers
Price Tiers have no differences aside from the cost. Once a tier sells out the next price becomes available. Early buyers are rewarded with a discount for buying early. We always recommend buying the lowest available price for each ticket type.
FAQS
WHEN AND WHERE IS GET FUNKY FESTIVAL 2023?
June 23rd & 24th at The Great Saltair in Salt Lake City, Utah.
WHAT CAN I AND CAN'T I BRING INSIDE THE FESTIVAL?
A full list of items that are allowed inside and items that you shouldn't bring can be found here: https://v2presents.com/news/v2-presents-festivals-allowed-not-allowed-items/
WILL YOU RELEASE THE SET TIMES BEFORE GET FUNKY?
Yes, set times will be released sometime during the week prior to the event. Set times are subject to change.
WHAT TIME DOES THE FESTIVAL BEGIN AND END?
Get Funky Festival hours: 7:00 pm – 2:00 am each night
WHEN IS THE BEST TIME TO ARRIVE?
There will be people waiting at the gates before they are open. We open gates at 7PM and the busiest point of the night ranges from 8-11PM. Always arrive earlier than the time you want to be inside to allow time for parking and getting through security. We do our best to keep the flow of lines moving and appreciate your patience!
WHAT IF THE WEATHER IS BAD?
Get Funky Festival happens rain or shine!
WHAT'S THE DEAL WITH PARKING?
Parking is limited on festival grounds, car pooling is highly encouraged. A big priority is to ensure attendees have a smooth and safe travel experience. We are working closely with UDOT and safety officials to ensure a smooth travel experience for all our patrons. Parking is charged separately by the venue and costs $10 per day.
Pre-purchase digital parking passes HERE.
WILL UBER, LYFT, TAXI CABS PICK UP AT THE VENUE?
Yes. Uber, Lyft, Taxi cabs and other ride shares options will pick up at the venue.
IS THERE CAMPING AT THIS FESTIVAL?
No.
WHERE SHOULD WE BOOK OUR HOTEL?
The Saltair is near the airport so any 'airport' area hotels are best. Downtown Salt Lake City is also in the area, about a 10-15 minute drive.
IS THERE AN AGE LIMIT? CAN I SIGN IN SOMEONE UNDER 18?
This is an 18+ event, there are no minors allowed inside the event. You must show proof of age before entering, a full list of acceptable forms of ID can be found here: https://v2presents.com/news/get-funky-festival-accepted-forms-of-ids/
CAN I LEAVE AND COME BACK? OR CAN I GO OUT TO MY CAR AND BACK INSIDE?
There is no re-entry for this event.
HOW DO I BRING MY MEDICAL PRESCRIPTION?
If you do need to bring a medical prescription in, you can check in with the security manager at the front gates.
CAN I BRING IN MY VAPE GEAR?
Vapes and vape juice are allowed inside. You can only bring in unopened bottles of vape juice though.
CAN I BRING A SIGN OR TOTEM?
Totems are not allowed, this includes retractable flagpoles. Hand held signs are ok.
CAN I BRING MY CAMERA?
We do not allow outside cameras inside without prior approval for press and media.
CAN I BRING MY CAMEL-BAK, HYDRATION PACKS AND EMPTY WATER BOTTLES?
Camel-baks or hydration packs are allowed they must be less than 3 compartments. Empty water bottles are allowed, they must be plastic. No Metal or Aluminum water bottles. Camel-baks or hydration packs must be empty upon arrival. They will not be allowed in 21+ Bar area, please plan accordingly. There will be water refill stations and water for sale inside along with drinking fountains.
CAN I BE A VENDOR? I WANT TO WORK WITH YOU? I WANT MY COMPANY AT GET FUNKY FESTIVAL.
Email info@v2presents.com with the subject line: "Get Funky Vendor" for more details.
CAN I WORK OR VOLUNTEER AT GET FUNKY?
Staff and volunteer details coming soon.
I'M A BLOGGER OR APART OF THE MEDIA CAN I GET A PRESS PASS?
If you are interested in applying for a press pass please email info@v2presents.com for more info.
CAN I USE MY DEBIT OR CREDIT CARD INSIDE? DO YOU HAVE ATMS?
Yes, you can use your credit or debit cards. To purchase tickets, merch, food etc.. Parking is cash only. There are ATMs located inside the event.
CAN I GET A REFUND OR EXCHANGE MY TICKETS?
No, we do not offer any refunds or exchanges on tickets.
DO I HAVE TO PRINT MY TICKET OR CAN I BRING IT ON MY PHONE?
You can print your ticket OR bring it on your phone. Make sure you've downloaded the scannable code before you arrive at the venue as service issues have been known to happen.
WHAT IF I HAVE A QUESTION ABOUT MY ONLINE TICKET?
Send an email to info@v2presents.com with your order number and an explanation of the question or issue you're having.
CAN I RESELL MY TICKET?
We are working with Tixel who provide a safe and easy place for you to sell your ticket to another fan. To sell your ticket please go to tixel.com/sell and follow the prompts.
If you have already found a buyer for your ticket but want to complete the transaction safely, you can create a private sale by selecting the 'make my listing private' option at the final step.
I LOST SOMETHING, HELP!
Lost and Found will be open from 7:00PM until 2:00AM each day of the festival. Lost & Found inventory can be found: https://v2presents.liff.app/#/
*All details are subject to change. Please check back closer to the event date for the most accurate information.