A gathering to organize and connect community members to the wealth of skills and resources that exist within Germantown.
About this event
We're bringing Shareable's Map Jam to Germantown! This is an event to organize and connect community members to the wealth of skills and resources that exist within Germantown.
We'll be highlighting the sharing economy that exists in the neighborhood and exploring ways to strengthen our support system to ensure we're all just a phone call away from what we need.
The event will be centered around a group mapping exercise which will result in the creation of a new Germantown Sharing Map.
Key speakers:
Nic Esposito (Circular Philadelphia)
Tuomi Forrest (Germantown Historical Society)
Karla Ballard (Shareable / YING)
EXCLUSIVE SCREENING OF "SHARING CITIES"
This event will also feature an exclusive preview of the "SHARING CITIES" pilot episode.
Where society is failing, a growing number of pragmatic change-makers are reclaiming cities for the people by forging new local economies based on sharing, technology, and inclusion.
SHARING CITIES is a Docuseries that counters a toxic media landscape that only shows failure. It shines a light on a positive future emerging from the ground up in cities around the world and empowers viewers to join in a growing, local revolution.
WHAT IS A MAPJAM?
MapJam's are easy-to-organize events where small, dedicated groups of people get together for a few hours to map as many sharing services in their city, town, or community as possible. Like a music jam, they are often fun, social, and interactive.
Since 2013, Shareable.net has supported groups in over 100 cities to host MapJam's and map out their local resources.
Mapping all of the sharing services in your city not only shows that another world is possible — it shows it's already here. Maps of sharing resources are also powerful organizing tools. Higher visibility and awareness of community resources can lead to more collaborations between existing initiatives and foster ideas for new ventures to fill in the gaps. Some of the maps that were created during previous MapJams received thousands of visits within just a few months after they were created.
Get Shareable's free mapping guide here: shareable.net/the-complete-guide-to-hosting-a-mapjam-in-your-city/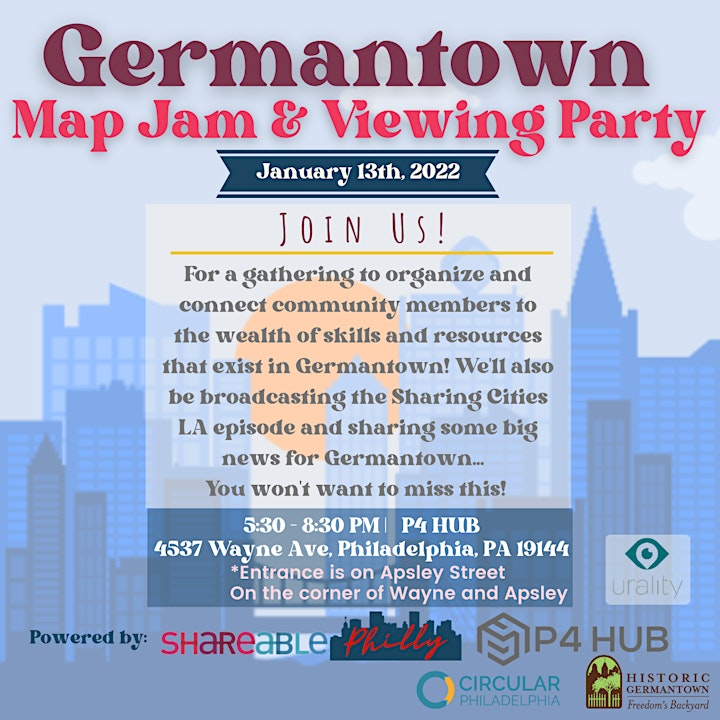 Organizer of Germantown Map Jam
Shareable is an award-winning nonprofit media outlet, action network, and consultancy that empowers communities to share. In addition to our daily solutions news reporting, we provide a range of services to sharing change makers worldwide including consulting, keynotes, workshops, event support, and editorial projects. Stay in touch through our newsletter, Facebook, Twitter, or drop us a line: info@shareable.net.