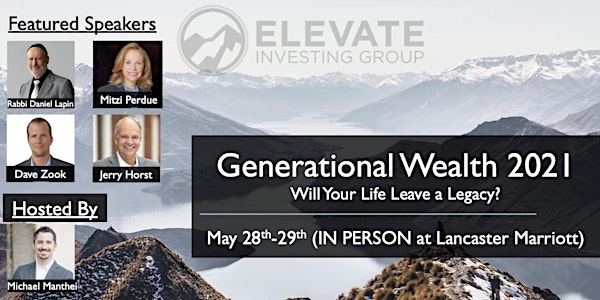 Generational Wealth 2021 - Will Your Life Leave a Legacy?
Location
Lancaster Marriott at Penn Square
25 South Queen Street
Lancaster, PA 17603
Model your future from successful families who have passed wealth down for generations!
About this event
Inside every successful person is a desire for lasting legacy.
Whether you grew up in a wealthy family or not doesn't affect this.
You want your life to matter, and you want your loved ones and the generation after you to have keys and resources that allow them to go further and higher than you could.
This is the psyche of the person positioned for generational wealth.
But intentions are never enough. It also takes determination, strategies and the confidence that YOU can accomplish this.
If you've read this far, you have the intention. And determination is a resolve deep inside you that's either there or it isn't, a force propelling you through life's challenges.
The third and fourth ingredients are where we can help you .... Strategies and Belief.
Strategies
Generational Wealth Strategies are the tactical actions successful individuals and families employ to achieve results that are far above average. Some of these are obvious, many of them are not.
If you want to experience levels of wealth previously unreachable, these keys and strategies can make all the difference.
Belief
Almost all successful people will tell you that 90% of the battle takes place between your ears - in your own head and mindset. So what's the number one way to grow your mindset?
Spend time around the right people.
Jim Rohn said, "You are the average of the five people you spend the most time around."
When you spend time around people that have achieved levels of success you desire, something changes inside you. Instead of feeling like it's impossible, you catch sight that it IS possible, and you can achieve it.
Our speakers are all successful, values-driven leaders who are sharing wisdom they've learned in the real world. The stuff that WORKS.
These are the kind of people to spend time around.
And don't forget that you'll be meeting other successful investors, business owners, professionals, and leaders from all walks of life. People who care as much about generational wealth as you do.
While many people are sitting at home complaining how life isn't working out for them, don't miss your chance to catapult you and your family's future into greater realms of success, achievement, and fulfillment!
A preview of our confirmed speakers include:
-Rabbi Daniel Lapin, known worldwide as "America's Rabbi" - A frequent guest on Fox News and many other outlets, RDL condenses 3000 years of Hebrew wisdom to help you improve your Family, Faith, and Finances!
-Mitzi Perdue, Author, Businesswoman, and Philanthropist - Growing up as an heiress to the Sheraton Hotel company and later marrying Frank Perdue the chicken magnate, Mitzi has a very valuable perspective on how families pass wealth from generation to generation! She has also authored over 1800 articles, produced over 400 television shows, and uses her platform to combat human trafficking. (more on that below)
-Dave Zook, The Real Asset Investor – Successful Business Owner, Investor, and Syndicator who's raised and invested over $200,000,000 in real assets! Dave is a SECOND generation successful business owner and will share how he is preparing the THIRD generation for success and stewardship.
-Marios Ellinas, Author, International Speaker, and former Green Beret special forces - Marios is a trusted confidant for leaders around the world from the realms of business, government, law enforcement, ministry, and the military. This perspective gives him insight into how to prepare the next generation for leadership and wealth.
-Jerry Horst, Vanguard Development Group, Philanthropist - Respected Real Estate Developer and Apartment Complex Builder with over 40 years of experience, who works with each of his four sons in his development company!
-Dana Samuelson, American Gold Exchange - One of the most trusted and respected experts in the physical precious metals industry! Precious metals have a place in generational wealth; learn how it can play a role in your own portfolio.
-Clair Hoover, Freedom Storage Management - National speaker and owner of over a dozen self storage facilities, Clair lives one of the most amazing lives of anyone I know! For years he has split his time 50/50 between business and ministry (so cool to donate half of your time!), and today is in partnership with both of his children.
-April Crossley, Lazy Girl REI - No BS educator and investor who retired from healthcare in her 30's through real estate investing. April will be sharing on her powerful story: "Teenage Mom to Millionaire - How I Unknowingly Prepared My Son to carry on Generational Wealth".
-Matt Neff, CEO of Sight & Sound Theaters - Garnering National and International acclaim, Sight & Sound Theaters has dazzled audiences for decades. CEO Matt Neff is joining us to share the real life lessons of passing a family enterprise from one generation to the next.
-Linford Weaver, Shady Maple Companies - Known around the country as the Largest Buffet in America, Shady Maple Smorgasbord is a bucket list experience that everyone must try. I've been privileged to know the family behind this amazing success story, and honored to have Linford some practical tips of how they have not only passed the business along, but made it stronger.
-Michael Manthei, ELEVATE Investing Group - After spending his 20's traveling the world in ministry, Michael began investing at age 30, and retired at 33. Since then, he has found purpose and passion in teaching others to create financial freedom and generational wealth!
This event will be LIVE and IN-PERSON held at the Downtown Lancaster PA Marriott and Convention Center. Sorry, no online access will be available. We will be focusing 100% of our energy on those in the room to make this the most powerful event possible!
Friday & Saturday, May 28th & 29th, we will kick off the Summit at 9am each day and conclude around 5:30pm.
Don't miss the VIP Experience which includes lunch both days with the Speakers and other VIP members, special unscripted Speaker Q&A session during each lunch, exclusive photo opps with Speakers, VIP seating, and a signed book by one of our speakers!
Lastly, thanks to our amazing members, we were able to raise over $122,000 through our last event to build orphanages in India! 100 children will now have a home, fresh water for their villages, and more.
We are truly amazed to see the impact we can have through our ELEVATE community!
Now, through Generational Wealth 2021, we will join Mitzi Perdue & Win This Fight in the battle against Human Trafficking! Donation and silent auction opportunities will be available (no obligation).
Wealth is being transferred today faster than ever before. Put yourself and your family in the best position to steward wealth by learning from those who have already done it!
Our past events have sold out, and this one has fewer seats available due to social distancing requirements. Don't miss it, buy your ticket today!
A Personal Note from Host Michael Manthei: If you have any concern over the value of this event, allow me to absorb all risk: if at any point throughout the event you don't feel you've received more than the value of your ticket, talk to any member of my team and we will refund 100% of your purchase on the spot, no questions asked or forms to fill out. And as my gift to you, keep any bonuses you've received. I believe in my events wholeheartedly and will stand behind them fully, or your money back. Michael