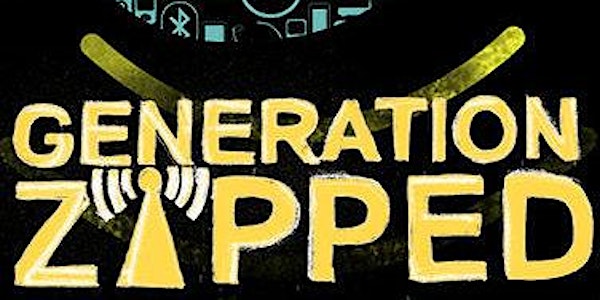 Generation Zapped - Movie Screening, Titirangi Auckland
When and where
Location
Lopdell Precinct 418 Titirangi Road Auckland, Auckland 0604 New Zealand
Description
Movie Screening: includes tea and cake, plus pre-film mix and mingle, post-film discussion, Q&A, and 'How to reduce exposure to WIFI' handout.
Why we Should be Concerned about 5G Wireless Technology
"A wifi classroom is like the inside of a microwave oven set at very low power. Children are exposed to that wifi radiation six hours every school day, five days a week, and for several months during the year." - Magda Havas, Associate Professor of Environmental and Resource Studies, Trent University, Canada
The message in the film shows why New Zealanders must call for a 5G Moratorium in New Zealand, and for independent scientific research on the cumulative biological effects on health and environment.
Synopsis
Today we encounter a hundred thousand times the level of radiation from wireless technologies than we did decades ago. Yet the safety standards set by federal regulatory agencies are outdated. New wireless devices such as smart phones, tablets and baby monitors to the latest "Internet of Things" continue to enter the market without any proper pre-market testing or post-market monitoring. Too little is done to ensure public safety and awareness.
GENERATION ZAPPED is an eye-opening documentary which reveals that wireless technology can pose serious health risks, from infertility to cancer. Through interviews with experts in science and public health, along with people suffering from high sensitivity to wireless radiation, the film suggests ways to reduce your exposures and protect your family.
So how can we uncover the facts and reduce our exposure to limit the associated health risks during this technological revolution? GENERATION ZAPPED attempts to do just that.
About The Film
Like cigarettes and the toxic chemicals before it, emerging science is revealing the concerning reality that some people may suffer health impacts from radiation from wireless devices.
We meet four people who are struggling with a variety of illnesses from wireless radiation - a breast cancer survivor who had carried her cell phone in her bra, a long-term cell phone user with brain cancer, and a fit, seemingly healthy couple with neurological impacts now identified as being linked to wireless data transmission radiation.
Scientists, health researchers, physicians, and other experts document the links and concerns about this technology.
The multi-billion-dollar telecommunications industry goes to great lengths to lobby congress, influence policy-makers, and dispute any scientific data correlating wireless technology to potential health risks, which is reminiscent of the lead, asbestos and tobacco industries before them.
GENERATION ZAPPED is a powerfully moving and thought-provoking documentary, daring to shine light on this invisible inconvenience, and empowers audiences to understand how to reduce their exposure to protect themselves and their families.
GENERATION ZAPPED provides hope - by suggesting simple guidelines for how to protect and safeguard ourselves and our families against these potential dangers.
About the Film Maker
This film was born of a personal and deep investigation by Executive Producer Peter Sullivan as to why his two sons growing up in the tech capital of Silicon Valley, California, were manifesting signs of being on the autism spectrum. Peter has funded studies to try and find out why some people are sensitive to low frequency radiation, including his own sons. He teamed with award winning film director Sabine El Gemayel, herself a mother of three teenagers, who is intensely concerned about the impacts of wireless technology on children and young adults.
Together, Sullivan and El Gemayel have created GENERATION ZAPPED as a social-awareness documentary combining personal stories from others directly affected, along with discussions with doctors, health researchers and other experts discovering the mounting scientific evidence. The film features public health policy experts who are fighting to revise long outdated policies and safety regulations.
Generation Zapped Trailer
Watch the Generation Zapped Trailer on this page: https://emfdetective.mykajabi.com/generation-zapped
Evening Agenda
6:15 – Doors open, opportunity to mix and mingle, enjoy a cup of tea and piece of cake (included in your ticket price)
7:00 – Movie starts (75 mins)
8:15 – Post film discussion, Facilitation, Q&A
9:00 - Finish
About this screening
This 'Generation Zapped' film screening is a not-for-profit screening for public education on the Dangers of 5G Electromagnetic wireless technology in our community.
It is brought to you by Concerned Citizens for 5G FREE West Auckland and Aotearoa New Zealand
The film reveals the Dangers of 5G EMFs (electro magnetic field radiation) and wireless technology in our community.
5G EMF wireless radiation small cell antennas are planned for lamp posts throughout Auckland without public consultation.
The message in the film shows why New Zealanders must call for a 5G Moratorium in New Zealand, and for independent scientific research on the cumulative biological effects on health and environment.