Description
Great startup ideas don't just fall out of the sky. What's the secret to generating great startup ideas? How do you know if your idea any good? Will people really want what you're selling? This workshop will help you to generate great ideas by identifying real problems, nurture them by asking tough questions, and take the first steps to validate them with real customers. Presenter Jake Elia, Hacker Lab's entrepreneur-in-residence, uses design thinking and lean startup methodology to perfect the ideation process.
Presenter: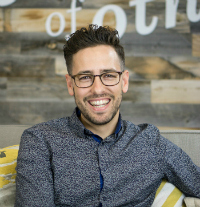 Jake Elia, Entrepreneur-in-Residence, Hacker Lab
Jake Elia is an entrepreneur and product developer who was born, raised, and living in Northern California. Currently Head of Products & Technology at Bamboo Creative, he leads a team to create digital experiences for clients ranging from local businesses to Fortune 100 companies. Jake started his first business at seventeen years of age. Since then he has launched several businesses and numerous digital products. Self proclaimed jack of all trades, his experience ranges from launching brick and mortar restaurants and cafes like Bloom Coffee & Tea to investor backed startups like Snippet App and Booklaunch. In addition to his role at Bamboo Creative he is an Entrepreneur in Residence through Hacker Lab where he acts as a resource and mentor for entrepreneurs.