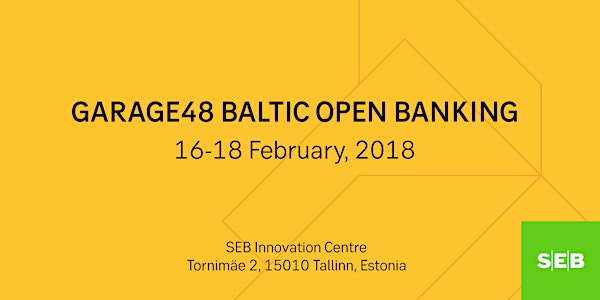 Garage48 Baltic Open Banking
When and where
Location
SEB Innovation Centre 2 Tornimäe 15010 Tallinn Estonia
Refund Policy
Contact the organizer to request a refund.
Description
Garage48 has partnered up with SEB to investigate open banking - new kid on the block, the subject that has made banking interesting to many and will surely gather much more attention in the near future.
Garage48 Baltic Open Banking hackathon will take place in the SEB Innovation Center in Tallinn on the 16th to 18th of February 2018 and is meant for corporates and fintech enthusiasts from Estonia, Latvia and beyond.
The main goal of the Garage48 Baltic Open Banking hackathon is to create next generation financial services. Best teams will get a chance to develop their ideas and prototypes further into real solutions in cooperation with SEB.
Open API could be named as the major turning point in banking after internet- and mobile banking. Banks will start to provide API's to connect directly to your account, credit card or any other service. This makes it possible to build new solutions that have not been possible until now. Teach Siri to tell you your balance, aggregate data across several banks, automate invoice processing, build a chatbot for banking or connect data from several disciplines in order to create concepts newer seen in the world before.
Garage48 together with SEB has the reason to believe that open banking will be the new standard and that the real potential of it has yet to be discovered. We are therefore inviting all the techies, creatives, marketers, data enthusiasts, designers and geeks with a vision to come together and challenge fintech as we know it today and remake banking for the digital age!
We encourage you to come and pitch your own brilliant idea, but check out this real life challenges provided by SEB before :
SEB has created a Developer Portal with a set of example API-s for co-creating new services to clients in Baltics. www.seb.lv/open-banking
SEB is also open to create new API-s depending on your proposed business models. Therefore please join the event on FB and post your thoughts on the wall!
Info about mentors and more here
Join the event on FB
Register to the pre-events in Tallinn and Riga
The pre-event is meant for the participants of Garage48 hackathon to get to know each other, mix & mingle, share their ideas and get a better understanding of what will follow in the hackathon weekend.