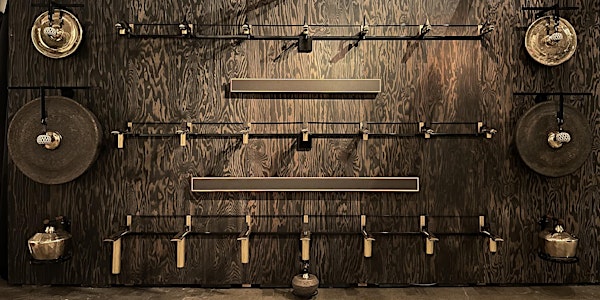 Gamelatron: Resonance In Light
RSVP to an intimate viewing of a Gamelatron with light art. Donations will support this and future shows at Heron. One RSVP per group please
When and where
Location
Heron Arts 7 Heron Street San Francisco, CA 94103
Refund Policy
Contact the organizer to request a refund.
Eventbrite's fee is nonrefundable.
About this event
Heron Arts is pleased to present an exploration of sound and light through The Gamelatron Project by Aaron Taylor Kuffner and artists John Edmark, JoeJoe Martin, Keegan Arthur Olton, and John Taylor.
Resonance In Light is an experiment in meditative immersion. Sonically anchored by Gamelatron Roh Ageng, the four Bay Area artists join Kuffner in the creation of an interactive environment where the aural tones of this Gamelatron influence the various light-based sculptures.
A Gamelatron is a sound-producing kinetic sculpture presented as site-specific installations and stand-alone artworks by Aaron Taylor Kuffner. Gamelatrons are made from bronze and iron instruments derived from Indonesia's thousand-year-old sonic tradition Gamelan, retrofitted with mechanical mallets on sculptural mounts. The pieces are connected to a physical computing system that transcribes digital compositions into an array of electrical pulsations that results in a ghostly musical automaton.
Aaron Taylor Kuffner is an American-born conceptual artist, based in New York. Kuffner's dynamic work reaches far outside conventional forms of representation: it actively engages its audience and pushes art to serve society. His pieces often take the form of multi-year projects that require in-depth research, collaboration with field experts, and the development of new specialized skill sets. Each project provides unique conceptual tools that further the evolution of consciousness through the experience of beauty and the sublime.
John Edmark is an artist, inventor, and designer. His diverse body of work explores and celebrates patterns arising from space, growth, movement, and light. He has designed numerous interactive artworks for museums including Exploratorium, CuriOdyssey Technorama, Phaeno Science Center, and the San Jose Museum of Art. He currently teaches in the Design Program at Stanford University. Edmark's ShadowPlay is a light installation that invites one to collaborate in the creation of animated multi-colored shadows. Initially, the projection surface appears white, but when one steps into the light beam, the shadows they cast reveal a panoply of ever-changing colors.
JoeJoe Martin is an artist and Computer Engineer living in Brisbane, CA. After working as a software engineer in the wireless industry for a decade he moved on to a more fulfilling career using his technical skills and passion for aesthetics to bring life to art installations and experiences across the world. He has provided custom circuitry and systems design to some of the most loved and influential artworks of Burning Man and has thrown photons at many iconic buildings as a Technical Director at Obscura Digital. His own artworks often explore and juxtapose the digital and organic, and have been shown in galleries in Atlanta, Austin, Cape Town, Oakland, and San Francisco, as well as the Jacksonville MoMA in Florida.
Keegan Arthur Olton has been designing and fabricating large-scale LED sculptural work for a decade. His training as a metalsmith aids in the creation of distributed electrical and data systems for controlling 3D mapped arrays of pixels on metal armatures. His work is motivated by an exploration of the human capacity for imagination and the imagination's fundamental characteristic of world creation Olton's work at Heron Arts will create architectural ambiance through custom light fixtures and sculptures throughout the gallery.
John Lawrence Taylor is oddly both a gen-xer and digital-native that came of age on skateboards and bulletin boards alike in the San Francisco Bay Area. A lifelong career of infusing technology into the arts began in 1998 with a trip to the Black Rock Desert where cross-disciplinary arts flourished with the help of like-minded creative technologists. The works presented at Heron Arts are the first in a series of explorations of algorithms during a time when the very word is pejorative.
An artist reception is scheduled for Friday, February 25th from 5pm to 10pm, and intimate visits will be available by appointment until March 4th.