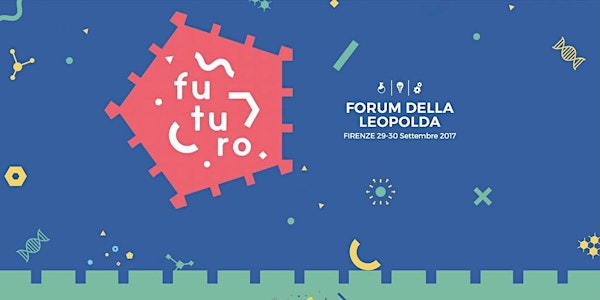 When and where
Date and time
September 29, 2017 · 9am - September 30, 2017 · 5pm CEST
Location
Stazione Leopolda 5 Viale Fratelli Rosselli 50144 Firenze Italy
Description
#VirtualReality #Robotics #ArtificialIntelligence #Drones #Bioinformatics #Neurosciences #Hakathon #3Dprinting #NanoSciences #IoT #BigData #Medicine #NewSkills #AR #Doctors #4P_Medicine
"La capacità di comprendere prima di vedere è il cuore del pensiero scientifico." Carlo Rovelli
Carissimi Futuristi, Anticipatori, Visionari e aspiranti tali, questa edizione della Sessione Futuro del Forum Nazionale delle Opportunità nel settore della Salute di Firenze, sarà dedicata a celebrare l'innovazione nel settore dell'Healthcare e della Life Sciences.
"Futuro" è un viaggio tra conferenze, workshop, interactive Labs ed eccellenze per definire le nuove rotte di domani.

L'evento, a sostengo della sostenibilità, delle tecnologie e della rivoluzione terapeutica, affronterà i principali trend del settore; si parlerà di Neuroscienza, Digital Transformation, SuperHumans, Cybersecurity, Future Trends, Longevity.
A discutere sul futuro e sulle opportunità saranno presenti numerosi ospiti come David Wood, presidente del London Futurist, Nicola Dragoni, professore in Ingegneria Informatica alla Örebro University (Svezia), il Ten. Col. Marco Biagini, del NATO Modelling and Simulation CoE di Roma, Aubrey de Grey biogerontologo, Matilde Leonardi Nuroscienziata... e poi Ogan Gurel che ci parlerà delle novità più importanti sul fronte della Medicina e delle scoperte scientifiche: andrà a delinearsi una rotta per il nostro futuro e dove la partecipazione attiva delle persone sarà il filo conduttore dell'evento.

Qui il Programma
About the organizer
Futuro Summit è un evento del Forum della Sanità di Firenze: il primo Forum nazionale che mette a confronto il Sistema sanitario e la sua Governance con i protagonisti, i Decision Makers, le aziende operanti nel settore gli scienziati ed i ricercatori, chi sta in prima linea come Medici e Operatori Sanitari sino alla partecipazione attiva dei Pazienti e delle loro Associazioni. Un momento unico e raro di condivisione di scelte e strategie sulla Salute...