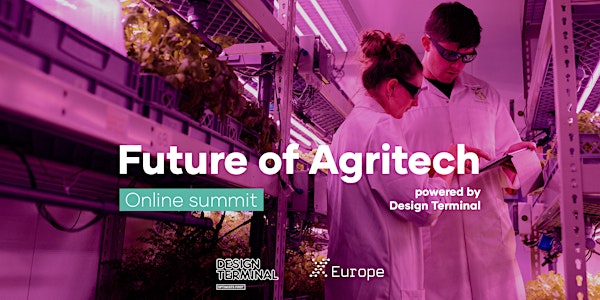 Future of Agritech - Online Summit powered by Design Terminal
Future of Agritech – Online Summit powered by Design Terminal is an agritech conference all about the future of agriculture.
About this event
We're bringing industry players and the agrifood community together to share their insight of a resilient and innovative sector based on digitalisation.
Are you wondering what's to come in the future of agriculture and who will lead the agritech revolution?
Join in for the 2 day online event and find out everything!
Experts with various backgrounds will attend our summit to discuss what's to come in agriculture:
Space data usage in agriculture will be discussed by Inbal Becker-Reshef (NASA Harvest) and Joana Kamenova (ESA).
Attila Csányi (Bonafarm) will share with us how the new generation of agriculture is taking over the industry.
Nadilia Gomez (Iowa AgriTech Accelerator) and Viktor Balogh (KITE) will shed light to how corporations and startups can collaborate.
Importance of bees and tech solutions to save them will be highlighted by István Arnócz (Space Apps), Gábor Szalkai (Bayer Hungaria) and Ru Wikkman (Beesage).
Check out the more detailed agenda and list of speaker at the Future of Agritech website: http://futureofagritech.designterminal.org/
Admission is FREE, but spaces are limited, so reserve your spot now!
After registering to Eventbrite you will receive an email from PINE online platform, where the event is broadcasted. Click 'get access', sign up with your email address and a password. That's it. Welcome to our virtual Future of Agritech online summit.