Event Information
Location
6001 Pulaski Pike NW
6001 Pulaski Pike Northwest
Huntsville, AL 35810
A Juneteeth Festival featuring local musicians, activities, vendors, food trucks, retailers, community advocates and much more.
About this event
SETS Revealed is excited to announce that SEE-HSV (Soulful Events Expo – HSV) presents "FUS-21" on Saturday, June 19, 2021. FUS-21 Juneteenth Festival is designed to expose the community to the plethora of multi-cultural premier vendors who service the North Alabama region. This is an outdoor event that will prove to be the largest cultural celebration of North Alabama held on the immaculate grounds of the National Speleological Society, participants will be able to experience Huntsville's finest food trucks, bakers, and retailers; as well as hear from live entertainment provided by local artists.
As a participating vendor, the current cost is as follows: General Vendor Registration is $75.00 (until June 1, 2021). Late Registration is $100.00 (June 2, 2021 - June 19, 2021). There are a limited number of vendor spots. Vendors have been invited from all over the State of Alabama and Southern Tennessee. Once the spots are filled, a waiting list will be generated to replace those vendors who may have to cancel. All vendor spots are reserved on a first-come basis. Reserve your ticket here to secure your spot. If you have additional questions, email SETSRevealed@gmail.com directly. This event will be rescheduled if required due to weather, pandemic, law, emergency, and/or an Act of God. If rescheduled, a refund will be optional based on vendor preference.
Thank you for your interest. Please feel free to let me know if you have any questions.
(NOTE: The Paparazzi vendor spot is already BOOKED!)
CLICK TICKETS TO RESERVE YOUR VENDOR SPOT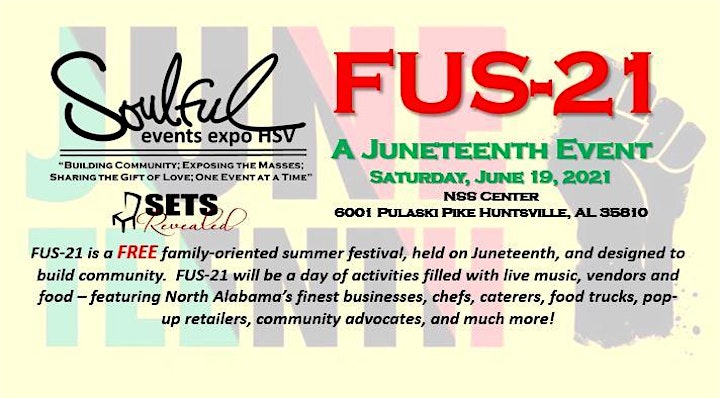 Why do we call it "FUS-21"? Because this event is indicative of the FUS molecular protein. The FUS protein attaches (binds) to DNA and regulates an activity called transcription, which is the first step in the production of proteins from genes. The FUS protein is also involved in processing molecules called messenger RNA (mRNA), which serve as the genetic blueprints for making proteins. By cutting and rearranging mRNA molecules in different ways, the FUS protein controls the production of different versions of certain proteins. This process is known as alternative splicing. Once the FUS protein processes the mRNA, it transports the mRNA out of the nucleus where it gets taken up by other cell structures to be further processed into a mature protein. The FUS protein also helps repair errors in DNA, which prevents cells from accumulating genetic damage. The FUS protein represents everything for which this event embodies: "Building Community in 2021"
Date and time
Location
6001 Pulaski Pike NW
6001 Pulaski Pike Northwest
Huntsville, AL 35810
Refund policy