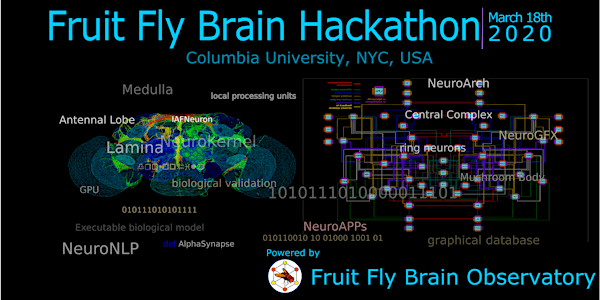 Fruit Fly Brain Hackathon 2020
Event Information
Location
750 CEPSR, Columbia University
530 W 120th Street
New York, NY 10027
Description
Update on COVID-19
The hackathon has been postponed to a later date that yet to be determined due to the COVID-19 emergency. Please check back for more information.
Overview
The 5th Fruit Fly brain Hackathon (FFBH 2020) will be held on Wednesday, March 18, 2020. The goal of the hackathon is to bring together researchers interested in developing executable models of the fruit fly brain. The hackathon is aimed at three main groups of participants: neurobiologists, modelers and software engineers. We welcome researchers working on the fruit fly brain as well as those working on other model organisms to participate and broaden the discussion in the hackathon.
The Fruit Fly Brain Hackathon 2020 is organized in conjunction with the Columbia Workshop on Brain Circuit, Memory and Computation on March 16-17, 2020. Participants of the hackathon are welcome to attend the workshop.
Organizers
Tingkai Liu, Department of Electrical Engineering, Columbia University
Mehmet Kerem Turkcan, Department of Electrical Engineering, Columbia University
Yiyin Zhou, Department of Electrical Engineering, Columbia University
Detailed schedule, will be posted here
Date and time
Location
750 CEPSR, Columbia University
530 W 120th Street
New York, NY 10027