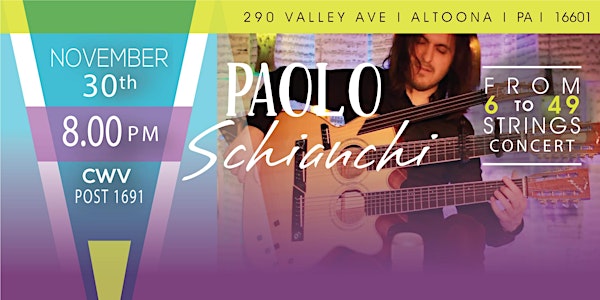 From 6 To 49 Strings
When and where
Location
CWV Post 1691 290 Valley Avenue Altoona, PA 16601
Description
A very special event dedicated to music and to the guitar world, with the Italian virtuoso Paolo Schianchi, will be hosted at CWV on November 30th.
With his concert "From 6 to 49 strings" - which always collected unanimous appraisal everywhere - Paolo Schianchi will celebrate the guitar, its most beloved varieties, the beauty of its repertoire, and it will capture the audience's attention with the showcase of a mesmerizing guitar which is unique in the world. It's a 49-string guitar designed by Paolo and built from the Argentinian luthier Carlos Roberto Michelutti. Paolo Schianchi will take the audience by hand and guide it through the music from Bach to The Beatles, through the stories of the composers of some of the most beautiful songs from the guitar repertoire.
Paolo Schianchi has recently been awarded with an EB-1 Visa (the so-called "Einstein Visa"), usually granted to artists with "extraordinary abilities".
Tickets purchased online in advance are $10+presale fees (99 cents).
Tickets purchased at the door on the day of the concert are $10.
Seats are limited.
www.paoloschianchi.com
www.facebook.com/paolofanpage