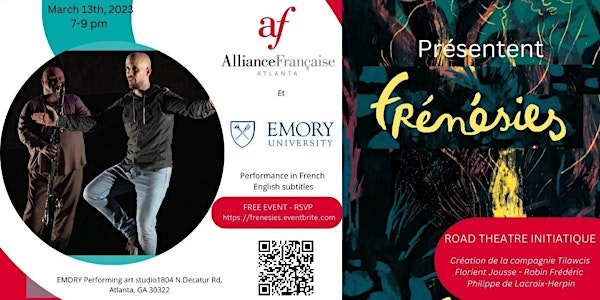 FRENESIES
Two lead actors serve as one-man orchestras in a wild and liberating celebration driven by a frenzied urge to live life to the fullest.
By Alliance Française d'Atlanta
Date and time
Monday, March 13 · 7 - 8pm EDT
Location
FRENESIES EMORY Performing art studio 1804 N Decatur Rd Atlanta, GA 30322
About this event
Turned towards an organic incarnation whose common thread is the departure-return report from the native island, the territory of origin, Frenzy starts slowly with a misguided character "I had the ocean as far as the eye could see but I was without horizon", sometimes candid: Thomas (twin in Aramaic). He meets his inverted double, free and without attachment, real or not, to the public to decide, Bilal (the name of the Patron saint of the muezzins, the one who sublimates reality by sacralizing it. It also represents water in Arab culture, the elusive, the intangible, the one who overflows, who flies, who engulfs), who will do it juggling disturbing and ecstatic situations during the course an unforgettable trip on American roads. Everything contributes to Tighten the room towards a philosophical, mystical climax, an Intimate ritual to reconnect with oneself, with one's roots, thus becoming a new genre: an initiatory road-theatre. It is the impulse of a freedom that we claim.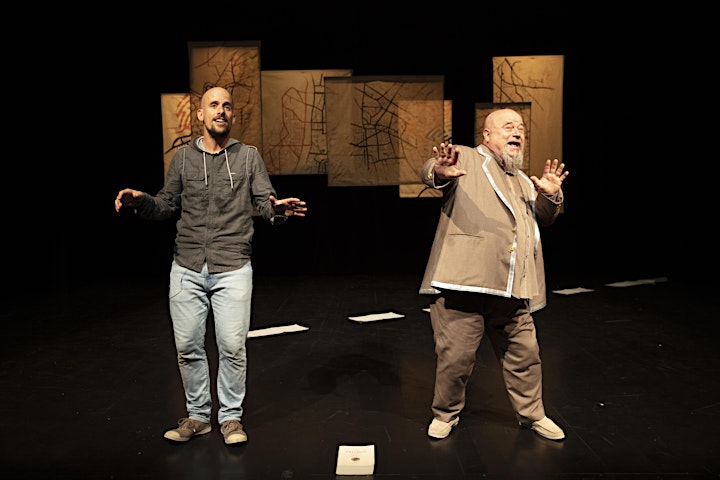 About the organizer
Founded in 1912, Alliance Française d'Atlanta is an independent non-profit organization, serving the Atlanta community as the premier provider of French language and culture.
Our mission is to encourage the study of French language and culture and to foster cultural, intellectual, and artistic exchanges between the French-speaking world and our local communities.
@Alliance Française d'Atlanta – Midtown
Colony Square - 1201 Peachtree Street NE
Building 400, Suite 1104. Atlanta, GA 30361
@Alliance Française d'Atlanta – Roswell
9420 Willeo Road, Suite 201
Roswell, GA 30075

Contact us: 404-875-1211 | info@afatl.com