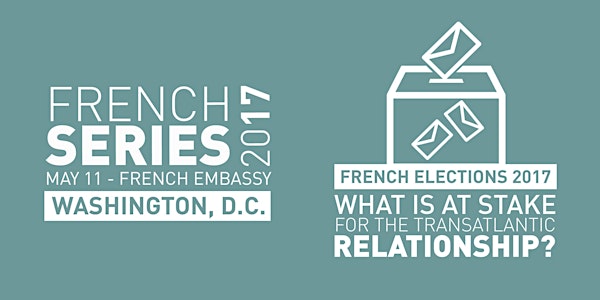 French Series - French Elections 2017: What's at stake for the Transatlantic Relationship?
When and where
Location
La Maison Française at the Embassy of France 4101 Reservoir Road NW Washington, DC 20007
Description
The French Elections 2017:
What's at stake for the Transatlantic Relationship?
After the election of Emmanuel Macron, France's relationship with the US will be defined by the following questions: what are the options for France in the face of Trump's attitude toward Europe? What will be at stake between our two countries given the European Union's challenges, the Trump administration's foreign policy and trade?
The French Embassy is pleased to invite you to our next French Series panel discussion event to give you the opportunity to discuss this new phase in the transatlantic relationship; the panel discussion will be moderated by:
Elise Labott, CNN's Global Affairs Correspondent
with
Edward-Isaac Dovere: Chief Washington Correspondent for Politico

Philippe Gelie: Chief Washington Correspondent for Le Figaro

Jeff Lightfoot: A non-resident senior fellow at the Atlantic Council's Brent Scowcroft Center on International Security
Benjamin Haddad: a research fellow at Hudson Institute specializing in European and trans-Atlantic affairs.

Program of the evening:
6 - 7 pm: Panel discussion
7 - 7:30 pm: Q&A session
7:30 - 8 pm: Wine bar

Frequently Asked Questions:
1) When do the doors open at the Embassy?
The doors for this event will open at 5:30 p.m.
2) What do I need to enter the Embassy?
You will need a valid photo ID
3) Can I park in the Embassy parking lot?
Unfortunately, we are not able to accommodate visitors in the Embassy parking lot. However, there is substantial space to park on the Embassy's street, Reservoir Road, as well a available parking across the street at Georgetown Hospital.

4) Are there any items that are not allowed at the Embassy?
Yes. Please be advised that for security reasons, Embassy staff and security services cannot allow large bags or backpacks to be brought onto Embassy grounds. Any large bags will be confiscated at the entrance gate before the owner can be granted entry.